Several  musicians came together Monday to record the remake of We Are the World, originally recorded in 1985. Proceeds will benefit Haiti relief efforts.
Here is the gang in 1985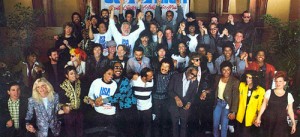 Among those recording artists who participated in the We Are The World 2010 Remake yesterday were: Celine Dion, Usher, Jennifer Hudson, Jamie Foxx, Rob Thomas, Jason Mraz, Wyclef, Pink, The Jo Bros, Sugarland, Miley, Kanye, Vince Vaughn, Tony Bennett, Kid Cudi, and Will.I.Am, the list goes on and on.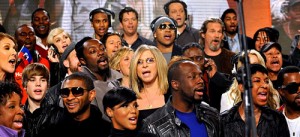 One of these things is not like the others, one of these things just doesn't belong…
I'll give you a hint:
Vince Vaughn?  I hope he gets a solo.
Here is the 85 version for old times sake.
The video of the new "We Are the World" will premiere on February 12 during the opening ceremony of the Winter Olympics in Vancouver.  Stay tuned.