Between working, taking care of that sweet baby, Pinteresting and watching Downton Abbey, there is time for little else-hence the neglect of ye olde blog. But it's high time I caught you up on what has been happening.
First of all, I celebrated a big birthday. A lady never reveals her age but let's just say that my twenties are officially in the rearview. Because my birthday fell on an anti-climactic Wednesday this year, it meant we partied in high style all week long and I got to bookend the Big Day with celebrations both weekends. My parents were sweet enough to volunteer to look out for the little one all day Saturday so My Man and I could have a day-date to ring in the new year. We have had a sitter and been out for dinner sans-baby plenty of times, but what I craved was a whole entire day of quality time with My Man and-no judgment-without our little love child. The day would have been a totally typical day in our life pre-baby (what we affectionately refer to as our "single life"), but it felt special to just get out and go without the thought of schedules, swaddles, naps, nipples, diapers and feedings. So what did we do with our day of freedom? We went for a long walk on the trails, had a leisurely lunch, did some shoe shopping, hit golf balls at the driving range and ran some errands. I don't want to toot my own horn, but I actually think I might be getting a bit better at golf now. The people at the driving range pointed me in the direction of some of these reviews about the best golf launch monitors, (https://shopindoorgolf.com/pages/best-golf-launch-monitors-2020) that can help you to get a better idea of how well you're swinging, for example. Do you know what, I might start looking into it? Anything to help me get better, right? Ring-a-ding-ding, right? Maybe I should have requested something more lavish, but it was so nice to spend more than three hours out of the house and with my shirt on. It was a happy birthday indeed.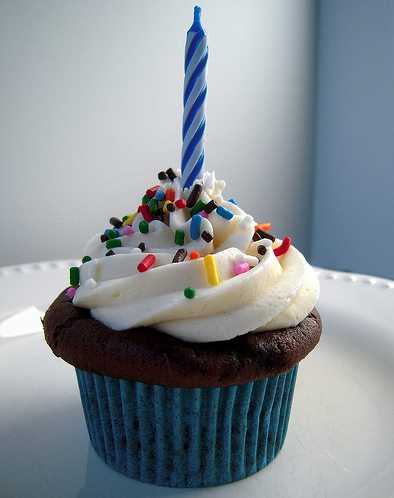 Last year on my birthday, I made a very specific wish when I blew out the candle on my cake…
It came true!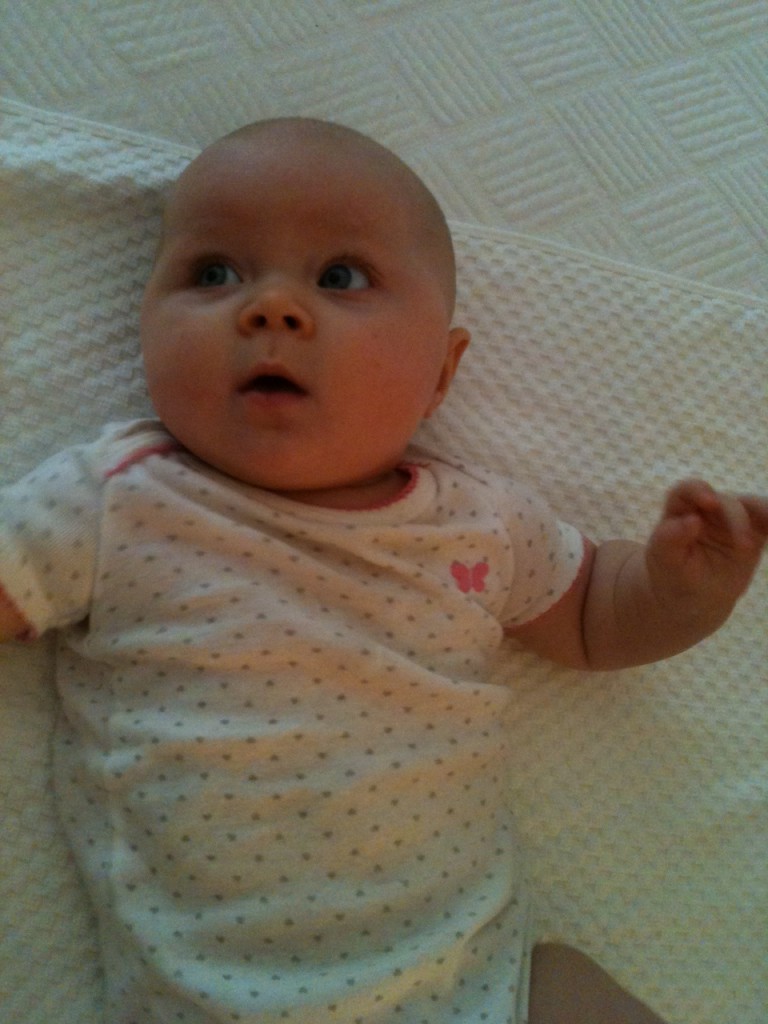 My little birthday wish reached a major milestone in infant development a few weeks ago. Wait for it…wait for it…she rolled over. I think I've got a real Gabby Douglas on my hands. The endorsement deals are already piling in. Of course we freaked out, took a movie, and called both sets of grandparents immediately. The enthusiasm we demonstrated when Harper started babbling, grabbing toys and rolling over was previously reserved for Major Life Events like promotions, raises and engagements. Who knew that My Man would clap for baby coos and overdue bowel movements with the same conviction he exhibits when he cheers for the Braves. (And that's sayin' somethin'.) Geesh. First-time parents.
Every day I fall more in love with my little girl. I seriously have to hold myself back from taking a nibble from those chunky thighs.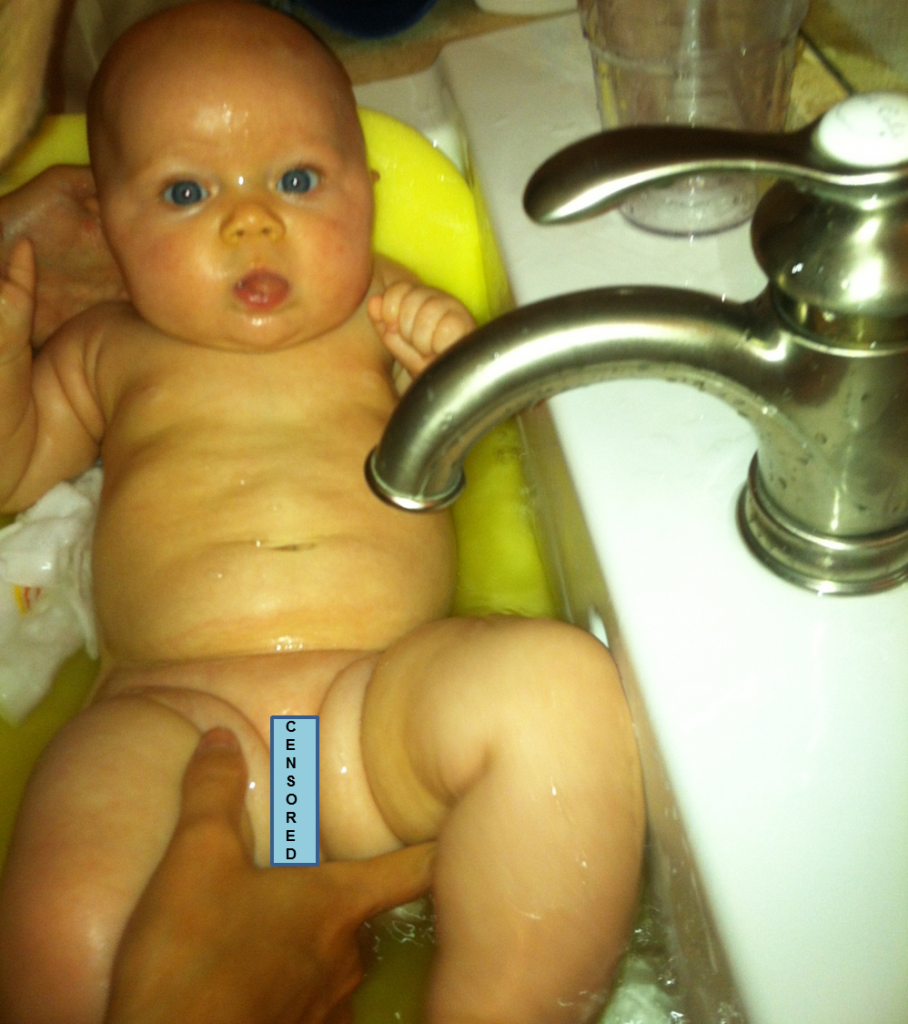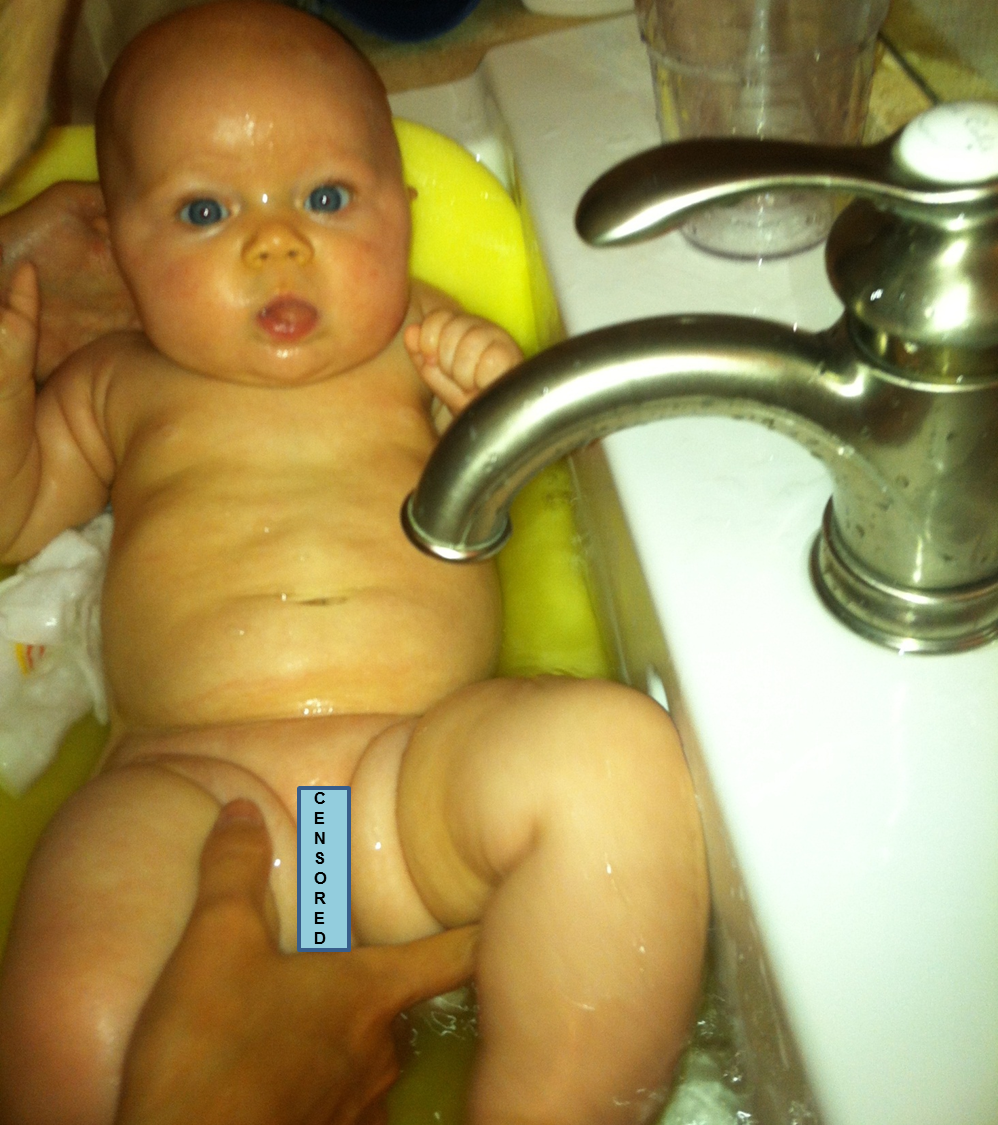 (I had to censor the picture above so she can't use it as ammunition to fuel her future teen angst. But seriously. With all that chub, it's hard to tell what's what down there.)
You may recall that in the early weeks of my new life as a mother, I was sending tearful exhausted texts to friends begging them to tell me it gets better. Well, shortly thereafter things got really good-and somewhere along the way it got great. Having baby indubitably turned my world, my life and my heart upside down, so naturally it took me a minute to recalibrate and get my barrings. We definitely have our days, days where she wont take take an afternoon nap and days when I could really use one, but I think we are hitting our stride. I am totally wholeheartedly digging my new gig.