It's officially snuggle season.  This time of year, there is nothing I love more than putting on my loungeabouts and my new slippers, turning on (I mean building) the fire, and cuddling up with some quality entertainment. Here are a few of my recent reads and watches that I think you'll enjoy as you hibernate for the long winter ahead.
READ: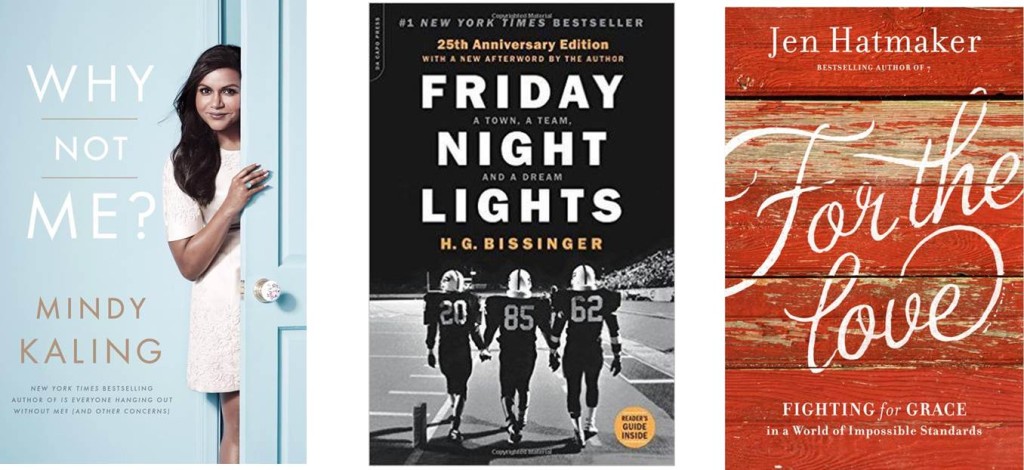 Friday Night Lights. Did you know that our beloved TV show was based on a movie and that movie was based on a book and that book is a true story? Me neither. Author H.G. Bissinger spent a year profiling the town of Odessa, Texas and their heroic high school football team, The Permian Panthers (AKA Dillon Panthers).   The book won the Pulitzer the year it was published and it was a truly fascinating read. They just published a 25th anniversary edition that checks in on the Panther players and tells you what has come of them since the book came out.
For the Love: Fighting for Grace in a Word of Impossible Standards. Jen manages to be honest, vulnerable, and funny, while also hitting on deep spiritual truths and insights. Her theology is practical and her expression of faith is accessible and attractive. Each chapter stands alone making it easy to read in small snatches. I was laughing, learning and nodding in agreement saying "amen sister" along the way.
Why Not Me.  I love Mindy Kaling. She is one of the (many) celebrities that I feel like I would be friends with in real life. It was such a quick and delightful read and now I love her even more.
WATCH: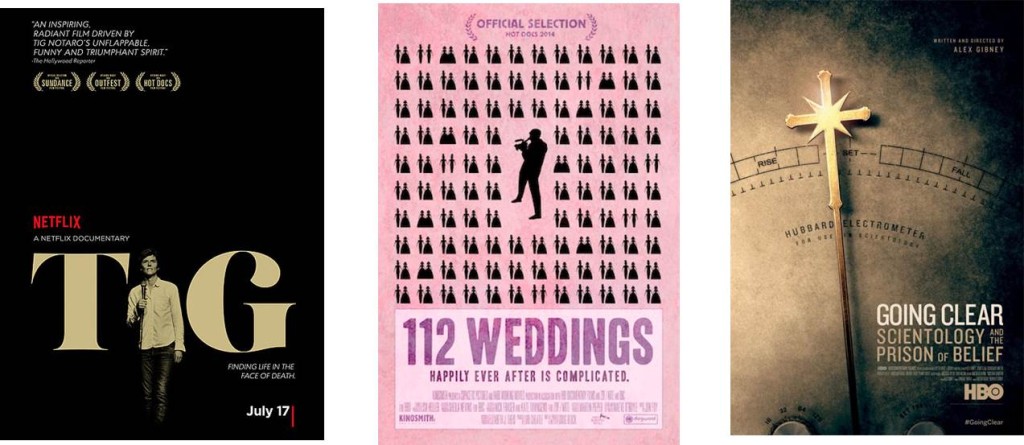 112 Weddings. Years after filming their weddings, a wedding videographer checks in on couples to see how it went since they said I do. In the words of the filmmaker, "this is a film about the mystery of marriage. What we enter marriage thinking it will be and what it turns out to be."
Going Clear: Scientology and the Prison of Belief. This is a documentary about the history and mystery of Scientology. All I can say is that this sh*t is BANANAS. Such a fascinating watch and I'm still thinking about it. (Side note: Shortly after watching Going Clear I stumbled upon the doc There's Something Wrong With Aunt Dianne . Whoa.  If you happen to catch them both, there are some striking similarities between the two seemingly unrelated films that we need to discuss.)
Tig. I first learned of comedian Tig Notoro when she was featured on This American Life. I loved her unique style of comedy and her candor and humor when confronted with cancer among other major life events. This a film about her life and comedy the year after her cancer diagnosis. It is so very watchable in the very best way.
Now it's your turn. What's worth reading and watching these days? Specifically, what should My Man and I watch together next? Ideally something that can be streamed on-demand on Netflix or Prime because who has the time or patience for anything else.  To give you an idea of our shared tastes, the past few series we watched together were Bloodline, Broadchurch, Narcos and The Killing. As I type those out, I'm noticing that we tend to mutually gravitate towards murderous serial dramas.  Whatcha got for us to watch next? Bonus points for British accents.  Go!