Public Service Announcement: My Favorite Pumpkin Dessert
The internet is all abuzz with Thanksgiving culinary masterpieces, so it is only fair that I join in on the fun and share this recipe.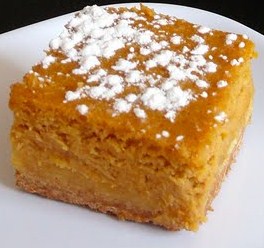 They are called Pumpkin Gooey Butter Cakes and they make pumpkin pie feel like the third sister-wife of the dessert table.  I figured many of you would be planning your Turkey Day menus in the next 24 hours, so I urge you to include these in your spread.  Would I lead you astray on a day with this much at stake?  Certainly not.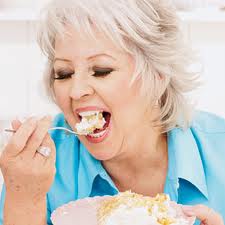 You can tell by the title that this recipe is clearly a Paula Deen creation.  Only she would title a recipe "Gooey Butter Cakes."  Thanksgiving is her bailiwick.  No contest.
Usually I have a nose for the more nutritionally balanced recipes, but this is a well-worth-it exception.  And if you want to make yourself feel better about the two sticks of butter in this recipe, remember that pumpkin is a vegetable.  Or is it a fruit?  Either way.
Pumpkin Gooey Butter Cakes
Ingredients
Cake:
1  box yellow cake mix
1 egg
8 tablespoons butter, melted
Filling:
1 (8-ounce) package cream cheese, softened
1 (15-ounce) can pumpkin puree (NOT pumpkin pie filling)
3 eggs
1 teaspoon vanilla
8 tablespoons butter, melted
1 (16-ounce) box powdered sugar – equivalent to 3 3/4 cups (reserve a 3 Tbsp for dusting)
1 teaspoon cinnamon
1 teaspoon nutmeg
Directions
Preheat oven to 350 degrees F.
Combine the bag of cake mix, egg, and butter and mix well with an electric mixer. Pat the mixture into the bottom of a lightly greased 13 by 9-inch baking pan.
To make the filling: In a large bowl, beat the cream cheese and pumpkin until smooth. Add the eggs, vanilla, and butter, and beat together. Next, add the powdered sugar, cinnamon, nutmeg, and mix well. Spread pumpkin mixture over cake batter and bake for 40 to 50 minutes.  Check on them after about 35 minutes so you make sure not to overbake them. The center should be a little gooey.   Let the pan cool completely before you cut the squares. You could even pop the cooled pan in the fridge before cutting them to get extra clean cuts.  Dust them with powdered sugar to make them extra pretty before serving them.
Please, please trust me on this one.  Tear up that stale pumpkin pie recipe and enjoy this variation.  Just put on your heals and your naughtiest of aprons
, and dazzle the people you are most thankful for with this sinful seasonal delight.
Gobble. Gobble.