A couple on and off the ice
For two short weeks once every four years, athletes from around the world, that you have never heard of compete against each other in sports that are rarely televised with abstract scoring systems in questionable spandex outfits. And NBC has mastered the art of making us give a damn.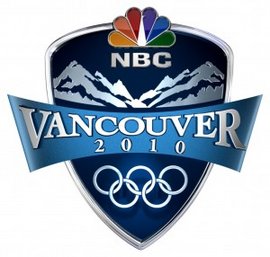 The Network has me wrapped around their pinkie finger as they take me on an emotional roller coaster ride of stories, heartaches, injuries, flashbacks, thrilling victories and agonizing defeats. And I am loving every minute.
Some professional athletes (i.e. pro basketballas and footballahs) act so entitled.  Their celebrity has often gone to their heads and they sometimes seem like they love the money and the fame more than the game.  But these Olympians are true lovers of their sport, work harder than I can imagine, and more times than not they don't expect Gatorade or xBox to knock on the door with a lucrative endorsement deal.  In fact, as NBC likes to remind us, there is often not much if any money in this at all.  Athlete's families often have to make tremendous financial sacrifices just to pay for skating lessons and ski coaches.
I continue to be in awe of these athletes and how truly present they are.  They are all so proud and humbled to be among the worlds best and are absolutely soaking in the whole experience–and maintained great attitudes even though they had to wear this at the opening ceremonies: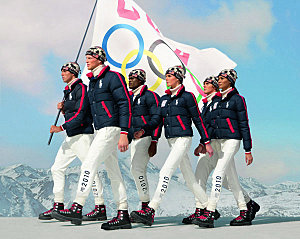 Not much of an improvement from these duds the athletes in Beijing were required to wear.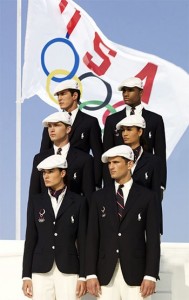 And then there is the speed skater who got a skate to the thigh an inch away from splitting his artery.  They thought he would never skate again, but look who took home the bronze.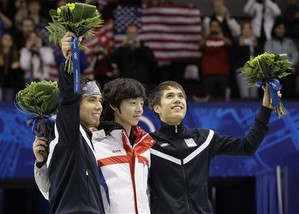 It has not been all victory speeches and piano music over sepia toned fairy tales of overcoming adversity and triumphing against the odds.  The death of the luger in the practice round before the opening ceremonies certainly put a damper on the celebration and remind us how dangerous some of these sports can be.  And the woman's downhill had me on the edge of my seat cringing as skiers shot out the gate on the icy terrain.  It was treacherous and countless numbers of the world's best brutally bit it as they careened off the course.  And I confess, it was some of the best television I have ever seen.
Here are a few clips if you can handle it.  The mood is lighted a bit because the first one isn't in English and the second one has "I believe I can fly" in the background.
http://www.youtube.com/watch?v=rPMIkrbRgH0
http://www.youtube.com/watch?v=XSiTdblbgxY
Click here for more downhill spills.
And surprise, surprise the hardworking Lindsey Vonn, whose injury earlier this week almost left her unable to compete, tearfully accepted the gold medal in the aforementioned woman's downhill.  NBC set us up for that one.
There was, however, no Jamaican bobsled team this year.  I suppose that story has already been told.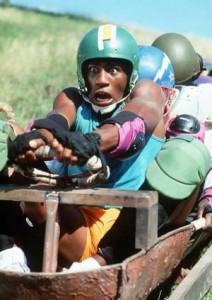 And if you must know, I do have a mild Olympic crush on Shaun White. Maybe because he is fearless and rakes in more millions per year than, I am willing to bet, any other winter Olympian.  Or maybe it's because he uses words like "shred" "put down,"  "pipe," and "ride."  And I now know enough about shredding to know that he puts down wicked pipe rides and gets mad air, and while doing so he has completely reinvented the sport. He is a true pipe pioneer.  And my friend on Facebook.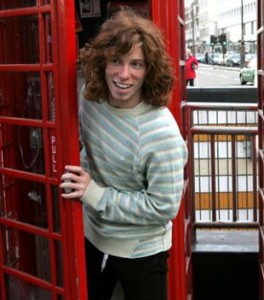 So enjoy the rest of the Olympics.  And try to tune out Dick Button and his skating commentary with Bob Costas.
Unrelated side-note: And is Bob's hair getting darker or is it just me? Wait for it, wait for it…
A quick Google search just proved my hypothesis.