Light a scented candle, crank up the Boyz II Men, open the Whitman's Sampler of heart-shaped chocolates, put the carnations in a red vase and run the champagne bubble bath…it's Valentines Day!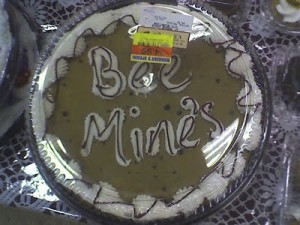 I heart Valentine's Day. Not because I need an excuse to enjoy chocolate or flowers (I often treat myself to such luxuries) but shucks, I just love celebrating holidays period. And this will be the first Valentine's Day My Man and I will spend together in the same place. Oh, the romance.
What do you even get a man for valentines day? Typical man gifts that come to mind include leather goods, monogrammed golf tees, and cologne. I think I will pass. My Man doesn't even wear deodorant so I know cologne wouldn't go over well. His sweat doesn't smell. And I'm not just saying that because I love him. Ask anyone. Maybe this Old Spice commercial will make him change his mind. However, I will say that my friend suggested I get him a custom face boxer set for his 'underwear needs', we'd both have a good laugh at it I think, my smiling face constantly looking up at him, no chance to stray there! (not that he ever would haha).
So here is what I have settled on:
Lottery tickets- scratch off and MegaMillions. The gift that could potentially keep on giving. Fingers crossed.
A car wash- I will trade cars with him for the day and hand wash and vacuum his car take his car to the pros for the DeluxeSuperPremiumWash.
His favorite desert- (recipe below) So easy and delicious and in Valentines colors.
A pantygram. Just kidding dad! But truth be told I may try to de-frump the sleeping ensemble this weekend to keep things fresh. We are newlyweds after all…
So here is the recipe for frozen berries with hot white chocolate sauce. I suggest cutting the recipe in half if you are making it for less than 10. I wouldn't file this under the healthy dessert category, but its Valentine's Day so let's indulge, shall we?
Frozen Berries with Hot White Chocolate
Ingredients
1 1/4 pounds good white chocolate, coarsely chopped (not chips!)
2 1/2 cups heavy cream or half and half
2 tablespoons vanilla extract
2 1/4 pounds frozen mixed berries or frozen raspberries
Directions
Combine the chocolate, cream, and the vanilla in a heat-proof bowl and set it over a pan of simmering water until the chocolate melts.
About 10 minutes before serving, remove the berries from the freezer and place them on individual serving bowls. Pour a little or a lot of the warm chocolate sauce over your valentine the berries and enjoy.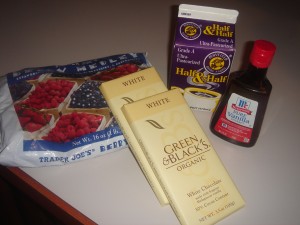 Here is a pic of the ingredients as this dish won't be made until the big day. It basically tastes like sweetened condensed milk (is there anything better!?)-only you are allowed to eat it with a spoon without judgment. It comes together really quickly and requires only four ingredients so you have plenty of time for canoodling and the whispering of sweet nothings.
Oh, gift ideas for her little ol' me you ask? Just a sweet compliment is all I need. And a bouquet of peonies and a kind note always says "I care." And this cute coat from Anthropologie couldn't hurt.
Have a great Valentine's Day!