Baked Shrimp with Tomatoes and Feta
We're going to the beach in a few weeks (applause!) and between now and then it is essential to acclimate our bodies to the copious amounts of seafood that we will eat whilst on vacation. It is a lot like building up your base tan before a lot of time in the sun.
This year we are heading to San Francisco and I am so excited to finally get to try some of the fantastic seafood restaurants! I love seafood so one of my friends has recommended one of the pier 39 restaurants to us. What are some of your favorite seafood dishes? I could not possible choose just one!
Anyway, I had been eyeing this recipe for Baked Shrimp with Tomatoes and Feta in Ellie Krieger's cookbook for a while now because it had a delicious looking picture, and I knew this would be just what we needed to get us in the seaside state of mind. Note to cookbook authors, I am 99% more likely to cook a recipe that has a glossy photo of the finished product. Look, can you blame me?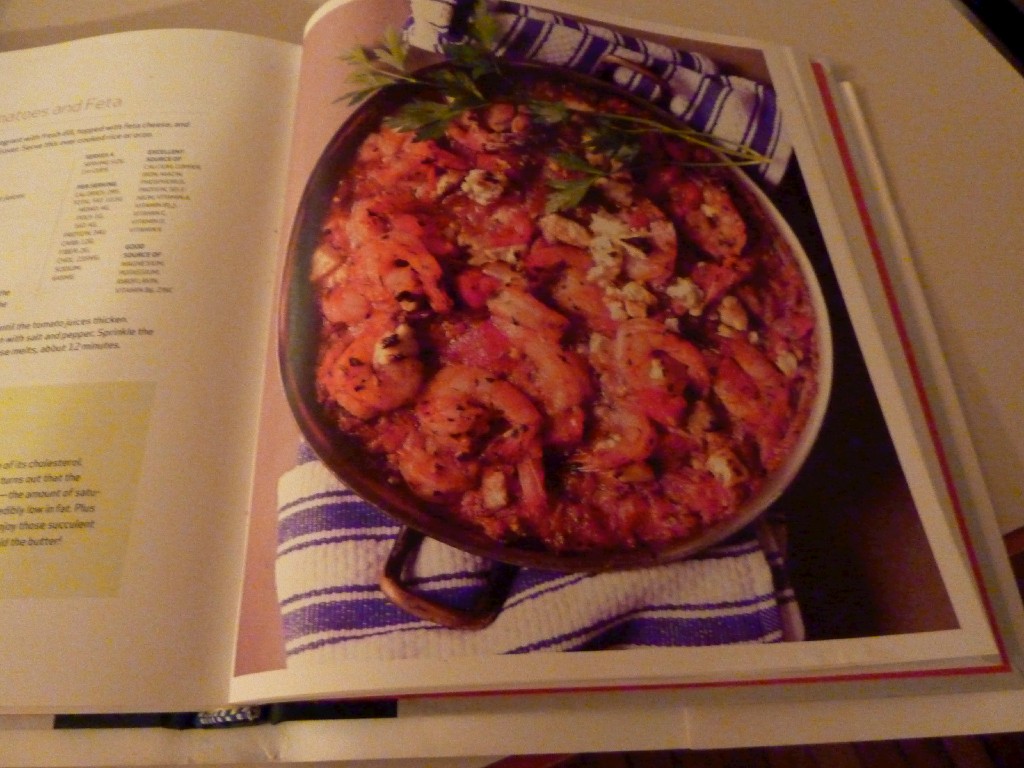 Here is what you need:
Ingredients
1 tablespoon olive oil
1 medium onion, diced (about 1 1/2 cups)
2 cloves garlic, minced (about 2 teaspoons)
1 (14.5-ounce) cans diced tomatoes, with their juices
1 (14.5-ounce) cans of no-salt-added diced tomatoes, with their juices
1/4 cup finely minced fresh flat-leaf parsley

1 tablespoon finely minced fresh dill

I omitted it because I'm on the fence about that particular herb
1 1/4 pounds medium shrimp, peeled and deveined
1/4 teaspoon salt
1/4 teaspoon freshly ground black pepper
2/3 cup crumbled feta cheese (about 3 ounces)
Directions
Preheat the oven to 425 degrees.
Heat the oil in an oven proof skillet over a medium-high heat. Add the onion and cook, stirring, until softened, about 4 minutes, then add the garlic and cook for 1 minute. Garlic burns really fast so keep an eye on it. Burnt garlic tastes like shoes and you don't want that.
Add the tomatoes and their juices and bring to a boil. Reduce the heat to medium-low and let simmer for about 8 minutes, or until the tomato juices thicken.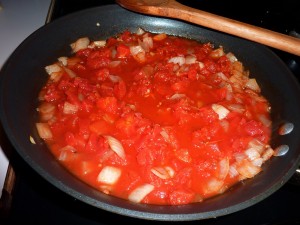 Remove from the heat. Stir in the parsley, dill (if that's your thang), and shrimp and season with salt and pepper.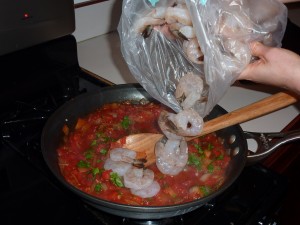 Sprinkle the feta over the top. Bake until the shrimp are cooked through and cheese melts, about 10-12 minutes. I used the time to catch up on my current events.
Here is the finished product fresh out of the oven.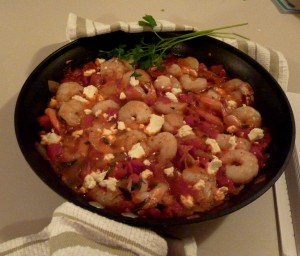 Victory is mine.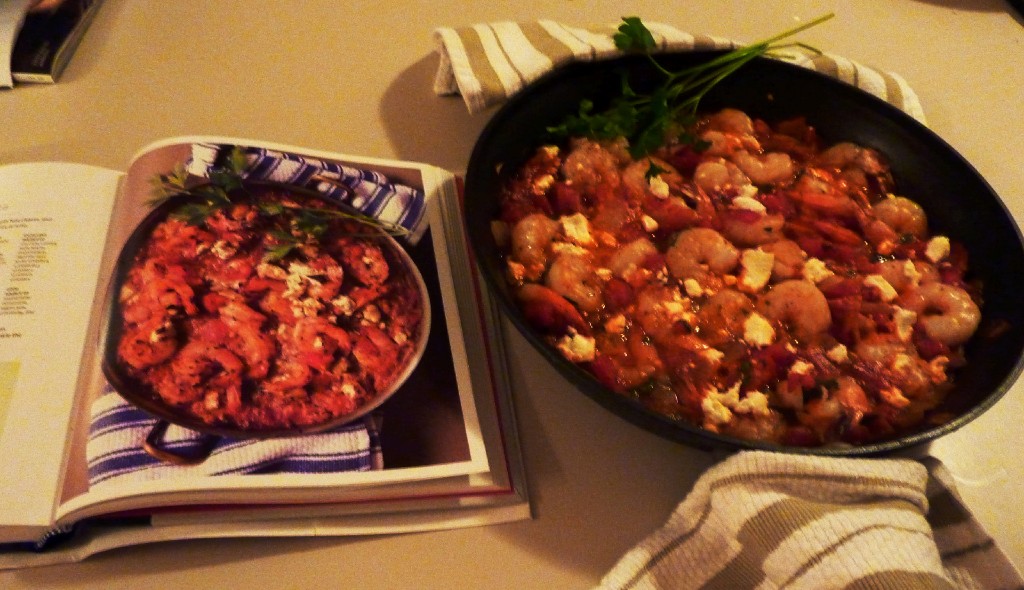 This recipe feeds about four. I used my magic to turn the leftovers into a delightful pasta sauce, but it would also be great over couscous. This recipe was simple and delicious and now I feel ready for whatever shellfish might come my way on vacation. Now I just need to work on the base tan.*
*See shockingly pale girl in photograph** above.
**Wishing the free Photoshop had a tanning edit button. It might be worth upgrading to the deluxe version.