Guilty Pleasure Thursday: Lottery Edition
My name is Jennifer and I play the lottery.  Now this isn't like an addiction or anything, but who doesn't like a good game of chance with the potential of a million dollar payoff every now and again?  Way back when, when my income came from allowance (my age in crisp one dollar bills) and whatever change I collected selling lemonade and my paintings in the front yard, I used to divide the money up this way:
Lip Smackers and Wet n' Wild nail polish
Trolls
A little in the "wampum bag" at Indian Princesses
A bit to the church (to secure my salvation)
Savings
A scratch off lottery ticket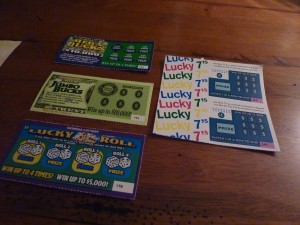 Lucky Seven was my was my scratch off ticket of choice.  Of course I was way too young to buy tickets myself, but our nanny/housekeeper/ soul sister Pearl would buy one for me if I was good.  The most I ever won was $10.  But do you remember how much $10 was when you were little? A whole damn lot.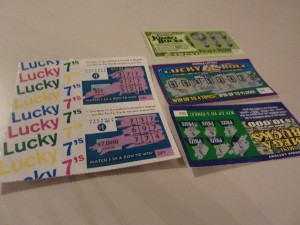 None such luck today.
Until today, I hadn't bought a scratch off ticket in ages, but I still buy the MegaMillions or Powerball tickets on occasion.  Even my mom has been known to dabble a bit as well, only when the MegaMillion jackpot gets above the $150 million mark.  Now, I don't know how to say this, but my mom doesn't really need to win the lotto as much as some of us. Ya read me?
Allow me to paraphrase my mom's lotto tip/theory: The winning ticket never comes from a nice part of town.  You have to go a bit off the beaten path, nearing the other side of the tracks, if you want to have any chance of winning.   For example, places that have a stack of newspapers like this by the cash register: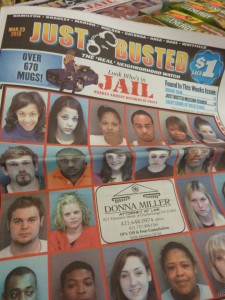 For you Atlantans, that means fat chance hitting the jackpot from a ticket purchased in the 30305 or 30327, to name a few. I took her tip and bought my tickets from what my Man and I fondly refer to as the meth addict Kroger.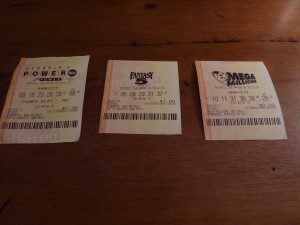 We will have to see this weekend whether or not I am a winner. I'll let you know…
Actually, I probably won't.  I wouldn't want you trillas coming out of the woodwork claiming to be cousins.  And things in my world wouldn't change all that much.
My life as a multimillionaire would look something like this:
I would  do the kind of consulting work I do now, only I would provide service pro bono to non profits.
I would work part-time so that I could spend more time with friends and family, travel, relax outside, hand-write more letters, take art lessons, etc.
We would turn our AC way down at night so we would still need all of the covers in the summer.
I would give more money to causes I believe in and to people who need it, and do so anonymously.
I would get my hair highlighted more regularly to maintain the illusion that I am a natural blond
We would buy a modest but comfortable house in Atlanta with a big yard for our hypothetical future dog and children.  We would also have a small (but tastefully decorated) house at the lake and one at the beach.
I wouldn't get a new car, but I might get the iPod hookup installed
Despite my millions, I would never EVER buy anything at Bed Bath & Beyond without a coupon.
I would still get a thrill from a good old fashioned bargain: finding cute clothes on sale, buy one get one frees, successfully haggling the gentlemen at Jiffy Lube for discounts, etc.
Wish me luck! My odds are one in 120,000,000.  Not bad?