Guilty Pleasure Thursday: TV Crush Edition
Tim Riggins—Friday Night Lights
What is it about those good looking bad boys who don't give a damn that make us girls go weak in the knees?  All I'm sayin is that I could have made him happier than Lyla Garrity ever could.  He is one of a dozen reasons why you ladies will love watching Friday Night Lights even if you have no interest in football.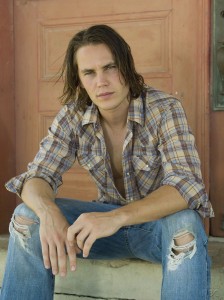 Wolfie—9 by Design
Who the hell is Justin Bieber and why are 13 year old girls fainting and screaming over this one trick pony with thick bangs?  So listen up!  This is a public service announcement aimed at the 9-16 age bracket:  Wolfie Novogratz is your cure for Bieber Fever.  He is super cool for a 13 year old, probably due in-part to the influence of his amazing parents, he has better hair than Bieber, and I know he would beat Bieber in any athletic event from one-on-one hoops to a thumb war.  Find him, pre-teens. He lives in New York.
Jason—Bethenny Getting Married
OK, I know he is taken (so am I thankyouverymuch).  He is on the list because of the way he loves Bethenny.  Man, he loves her well and we all know that she can be a live wire, to put it mildly.  I love her too.   I have to admit that I got misty eyed watching the rehearsal dinner episode last week.  I am so happy for them.
Anderson Cooper- Anderson Cooper 360
I love a man with a full white head of hair and a young face, who stays up on his current events.  Deal with it.
Speculations about his sexuality have no place in this discussion.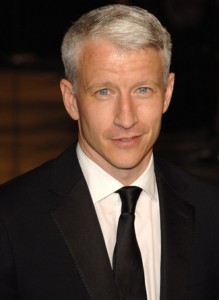 Don Draper-Mad Men
He is dapper, masculine, has superb insight into the minds of the consumer, he is mysterious, he is—enough from me, Ill let the pictures do the talking.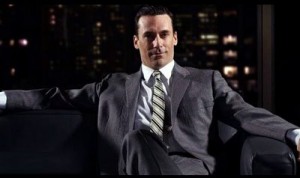 So that's my quick list of fictional television crushes. Who's on your list?
Phil Dunphy? Dr. Phil? Dr. Oz? Jim Halpert? Pat Sajck? Chris Harrison?—Come to think of it, he is on my list: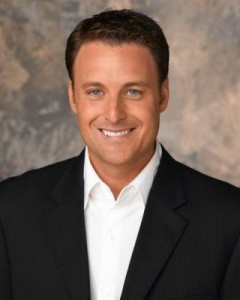 Chris Harrison-The Bachelor(ette)
Our Host Chris Harrison has what may be the best job ever.  He gets to travel the world on ABC's dollar and he works for a total of 10 minutes a week, save for the hour-long "Women Tell All" shows, and the therapy sessions with former bachelor couples with dysfunctional relationships.  He seems to be great friends with all of the Bachelors and Bachelorettes, and the kind of guy who both women and men can spill their guts to.  Under that well tailored Gucci suit hides a treasure of a man: part therapist, part friend, with a secret killer sense of humor. "Gentlemen, Ali, the final rose of the evening…"  Now that is talent.  I am willing to bet he is the godfather of one or both of Trista and Ryan's children. And we very well may ask him to be the godfather of our firstborn, when the time comes.
My final rose goes to you, Chris Harrison.