Chilly Weather Chicken Chili
It wasn't too long ago that we were snowed in.  The city streets, stores and schools all shut down and the local news teams were working overtime to keep us posted on just how icy and cold it was outside and how ill-equipped the city was to handle it.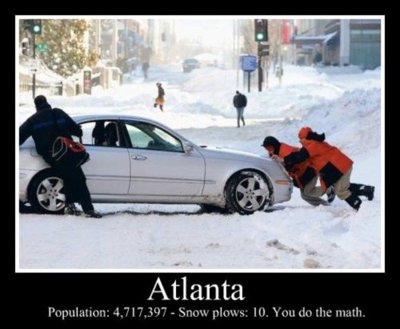 Our shaded street was completely iced over from Sunday night until Friday afternoon, so for five days we lived like the Amish.  Well, we had electricity, computers, cell phones and television so I suppose it was a reformed/progressive sect of the Amish lifestyle. Basically we couldn't drive for five days.  There was no barn raising but it was cultural experience for sure.
By day four, our pantry was bare and we had run out of creative ways to reinvent frozen vegetables, oats and canned beans.  So Wednesday afternoon we braved the elements and walked, yes walked, to the grocery store.  There we stocked up on the essentials, or what was left of them on the barren shelves.  It is no secret that Atlantans freak out before, during and after a snow flake.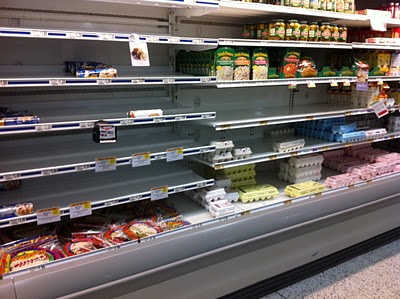 It was a treacherous and icy trek there and back.  Thank goodness I had my overpriced yet practical inclement weather boots to get me there.  Ladies, you know exactly which boots I am talking about.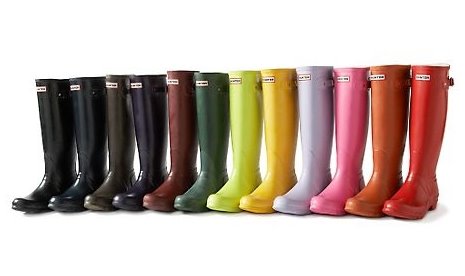 Besides five straight days of full-time togetherness with My Roommate and the rationale for purchasing the adorable coordinating inclement weather socks to go with the boots, this delicious Chicken Chili was the best thing to come from Snowpocalypse 2011.  It is warm and hearty and has nothing but healthy wholesome ingredients.
Make it.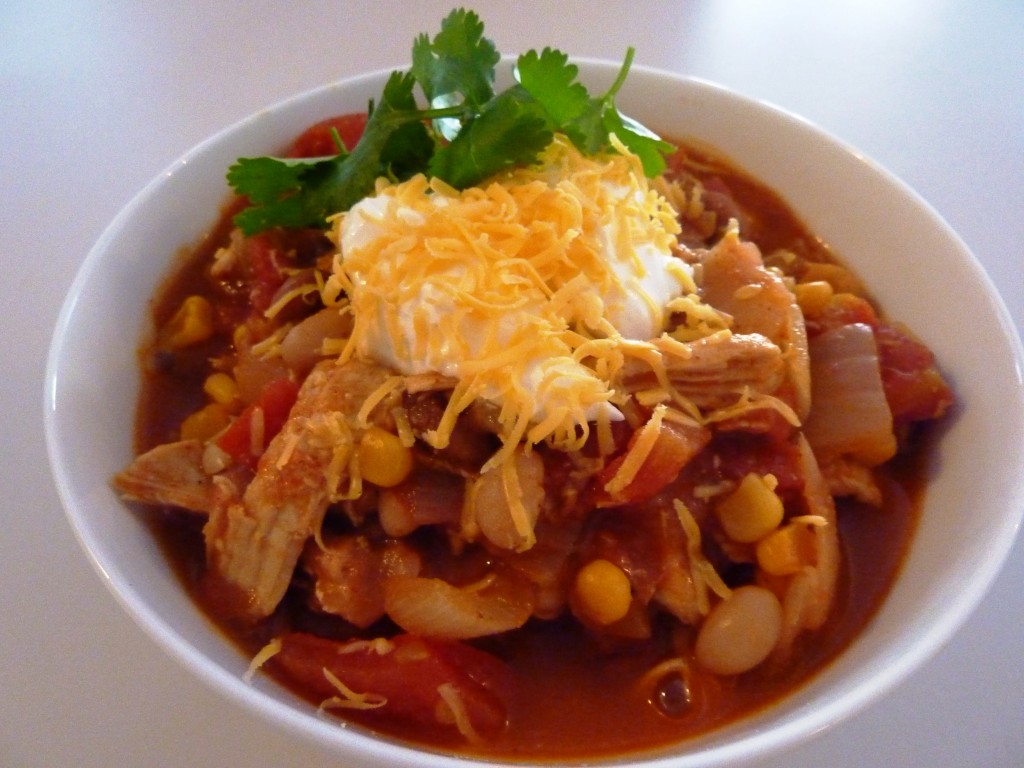 Chicken Chili
(serves 6 (or 2 for three days in a row))
Ingredients
4 cups chopped yellow onions (3 onions)
1 tablespoon olive oil, plus extra for chicken
1/8 cup minced garlic (2 cloves)
2 red bell peppers, cored, seeded, and large-diced
2 yellow or orange bell peppers, cored, seeded, and large-diced
¼ cup chili powder
1 tablespoon ground cumin
1/4 teaspoon dried red pepper flakes, or to taste
1/4 teaspoon cayenne pepper, or to taste if you like it hot
2  teaspoons ground coriander
1 teaspoon dried oregano
2 teaspoons kosher salt, plus more for chicken
2 (28-ounce) cans whole peeled plum tomatoes in puree, undrained
1 can corn
3 different cans of drained beans- pinto, kidney beans, cannellini, black. Express yourself.
4 split chicken breasts, bone in, skin on  (or shredded white meat from a rotisserie chicken or poached and shredded chicken breasts)
Black pepper
For serving:
Chopped onions, corn chips, grated cheddar, sour cream or plain Greek yogurt, cilantro
Directions
Cook the onions in the oil over medium-low heat for 10 to 15 minutes, until translucent. Add the garlic and cook for 1 more minute. Add the bell peppers, chili powder, cumin, coriander, oregano, red pepper flakes, cayenne, and salt. Cook for 1 minute. Crush the tomatoes by hand (super easy and sorta fun) or in batches in a food processor (pulse 6 to 8 times). Add to the pot along with the drained beans and corn. Bring to a boil then reduce the heat and simmer, uncovered, for 30 minutes, stirring occasionally.
While chili is simmering, cook the chicken.  Or pull the rotisserie chicken out and shred it.
Preheat the oven to 350 degrees F.  Rub the chicken breasts with a little olive oil and place them on a baking sheet. Sprinkle generously with salt and pepper. Roast the chicken for 35 to 40 minutes, until just cooked. Let cool slightly. Remove and discard the bones and skin and shred the chicken or cut it into chunks.
Add the cooked chicken to the chili and simmer, uncovered, for another 30 minutes.  Serve with the toppings that make you the happiest, or refrigerate and reheat gently before serving.
Eat. Repeat.
*Loosely based on this recipe from The Barefoot Contessa with a little inspiration from this recipe from America's Test Kitchen Healthy Cookbook