Anyone giving advice to prospective home-buyers likely includes this pearl of wisdom: "Don't get emotionally attached to a house. Until it's official and everything is signed, there are no guarantees."
Translation: Be cool, you ninny. It's not yours yet and it probably never will be. So spare yourself the potential disappointment and stay cool. STAY COOL. This will help you to deal with the disappointment of a number of things that could potentially go wrong, from sellers pulling out to somewhere like FEI Inspections finding a number of structural issues that put you off the house entirely.
Easier said than done.
Remember, you're trying to find a home – one of the most important expenditures of your life – and you don't want to scupper your chances of bagging the right property. Take care to conduct proper research of properties in your chosen area and use the internet to see homes for sale that interest you.
From the first time we saw The House, I was smitten. I went to sleep dreaming of the dark hardwoods and the open floorplan. A few days later I was completely mentally and emotionally packed and already visualizing the place where we would put the Christmas tree. I knew I was in deep.
We have been house hunting for almost a year and this was the first time anything remotely excited us. So despite words of warning and my better judgment, I willingly dove in headfirst. While My Man kept his poker face, I was just excited to be excited. It just felt like we had finally got that relief of being able to call somewhere our own especially after it took us so long to find the right property. It took us that long that we decided to get help from a property management company that was local to our area to see if they could help us find somewhere. There were some lovely houses but for some reason, we were drawn to this one and it's finally something to get excited about.
I imagined what my life would be like in the beautiful master bathroom. You know, to have somewhere where you really feel squeaky clean? I dream of it! Since I left the nest (my parent's house) I've never lived anywhere where I have even been tempted to take a bath. It should be noted that I LOVE baths, but the bathroom at our current digs is far from spa-like. And there is always the possibility of an unwelcome surprise visit from the landlord…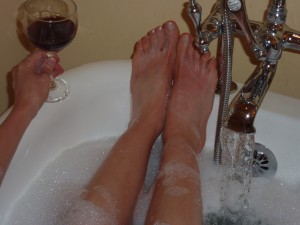 When I drew a picture of The House in white icing on My Man's Toaster Strudel, I knew things had gotten pretty bad. But I willingly let myself go there.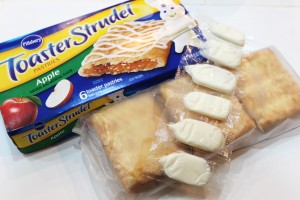 The thing is, I had no idea if buying The House was even a possibility. Among other issues, The House technically wasn't on the market yet. The important questions were swirling around my head: Can we afford it? Is it a good investment? What will our interest rate be? Will we like the neighborhood? Where will we put the Christmas Tree? When can we move in? What will the mortgage be like?
I've never liked the thought of having a mortgage, but maybe I will warm to the idea if I knew it was for a house that I'm totally in love with. My main concern is finding a way to effectively manage a mortgage. Will there be any loans available to make it easier? My friend has this type of help. You see, she is a doctor, and has access to these physician mortgage loans texas, to help her to cover the costs of living in a home that has a mortgage whilst working a tough job. She has said that it is literally a lifesaver, and that she would find it hard to cope if she didn't have this type of loan help. But anyway, that was at the back of my mind for now; I just had to find a way to buy The House.
Over the past few weeks I have been drinking a tasty cocktail. Recipe as follows:
1 part anxiety + 1 part excitement + 1 part longing + 1 part fear of disappointment + 2 parts red wine
It goes down pretty smooth.
Well, after three weeks of conversations and negotiations, I am delighted to report that we are officially under contract. I couldn't be more excited! I suppose I'm still supposed to be protecting myself from getting too attached, but clearly I stopped doing that a long time ago. Sure, something could still fall through. There is always the chance of termites or tornadoes. And we still have to do an inspection and the appraisal and all of that, but I am hopeful everything will work out.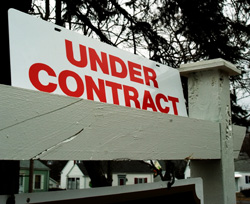 Not a done deal, but pretty dang close.