After a series of indulgent holiday parties, I decided to print out a three day free trial pass for a local gym. (Let it be known that I have no intention of actually joining this gym, I just had a little giddy-up to break a sweat over the weekend.) But before I could begin my workout, I had to have the requisite tour of the facility and a sit-down conversation with the manager so he could give me the sales spiel. He told me about the equipment, the group fitness classes, and the monthly rate. Then things got a little more personal.
"What are your fitness goals, Jennifer?" He asked me.
"Oh, I don't know. I guess I want to be longer and leaner."
"What else," he asked as he leaned in a little closer. I think he wanted me to go a little deeper with him but I was stumped.
"Stronger…I guess? What do people usually say?"
"Well, most people have very specific fitness goals" he said.  "Some want tighter cores because all strength really comes from the core. Some want more toned arms. Other people come to the gym hoping to make their butts bigger," he added.
"What!? People come here because they want bigger butts? What a nice problem to have."
He nodded.
"Sir," I said, "I'm afraid I know exactly how to do that and it doesn't require a gym membership."
Shortbread Thumbprint Cookies from Henri's Bakery
These shortbread thumbprints are from a Henri's bakery in Atlanta (pronounced On-ree's with a French accent for those out-of-towners). I find the majority of their baked goods absolutely average, but these cookies are superb. They are on the elite list of my top ten all-time favorite cookies, so you can imagine how delighted I was to find the recipe online. It was actually printed in the newspaper a few years ago. The dough has to chill for a few hours so plan accordingly, my dear.

Makes about 60 cookies-but the recipe below can easily be divided in half
Ingredients:
For the cookies:
1 cup granulated sugar
3/4 cup (1 1/2 sticks) unsalted butter at room temperature
1 cup vegetable shortening*
6 egg yolks
4 cups cake flour
2 teaspoons salt
2 teaspoons vanilla extract
For the fondant filling:
1/2 cup granulated sugar
1/4 cup water
2 tablespoons light corn syrup
2 cups powdered sugar
Food coloring (optional)
Instructions:
To make the cookies:
With an electric mixer on low speed, cream sugar with butter and shortening until thoroughly combined. Slowly add egg yolks. Scrape the bowl and add flour, salt and vanilla. Scrape bowl again to make sure ingredients are thoroughly mixed. Wrap dough in plastic and chill for several hours.
Preheat oven to 350 degrees. Roll out the dough a little at a time into log shapes the thickness of a roll of quarters. (Keep the remainder refrigerated.) Cut off pieces about 1½ inches in length. Place pieces cut side up on a cookie sheet lined with parchment paper. Flatten each piece and make a depression in the middle using your finger. Bake for 12-15 minutes or until slightly brown around edges. Cool completely on rack.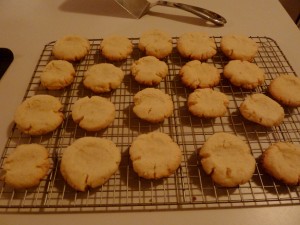 Prepare fondant filling after the cookies are cool:
Boil sugar and water until dissolved. Transfer to the bowl of an electric mixer and add corn syrup and powdered sugar. Mix on low speed until smooth. Fondant should be thick yet pourable. Correct the consistency with more powdered sugar or corn syrup if necessary.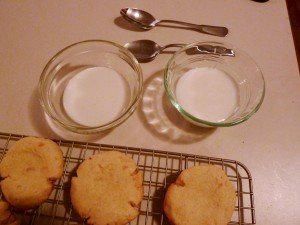 Tint with food coloring to spice things up. I chose red and green, but get creative to suit any occasion.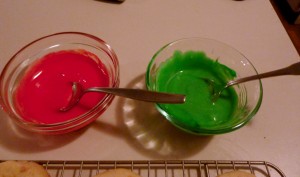 Using a small spoon or decorating bag, place fondant in center of each cookie. Fondant will harden upon standing.
These cookies actually taste better the longer they sit. They are best at least a day after you make them. Mine spread a little more than the Henri's cookies in the photo below. I think my dough portions were larger. It's the American way.
*I know. Shortening! Eat it by the spoonful if one of your fitness goals is to have a bigger butt.
**Relax! After the holiday season I will return to posting recipes for healthier fare. Promise.