As the Maid of Honor, I had the privilege of hosting my sister's bridesmaids' luncheon last Friday afternoon. I enthusiastically volunteered to have the gathering at my house way back in July before we moved in. I thought that surely by October things would be coming together on the home-front. Notsomuch. The way things were as of two weeks ago, the ladies were going to be lunching on the floor. I wondered if it was too late to give the party a "picnic" theme. Fortunately, hosting the shower turned out to be great last-minute motivation to see that those two completely empty rooms to the right and left of our front door got some much needed furnishing, albeit temporarily.
There is nothing the Internet loves more than a great new Beyonce video, silly kittens on YouTube, and a good old fashioned before & after. You will have to check out the Beyonce video for yourself, but I can give you a few before & afters.
Dining room before: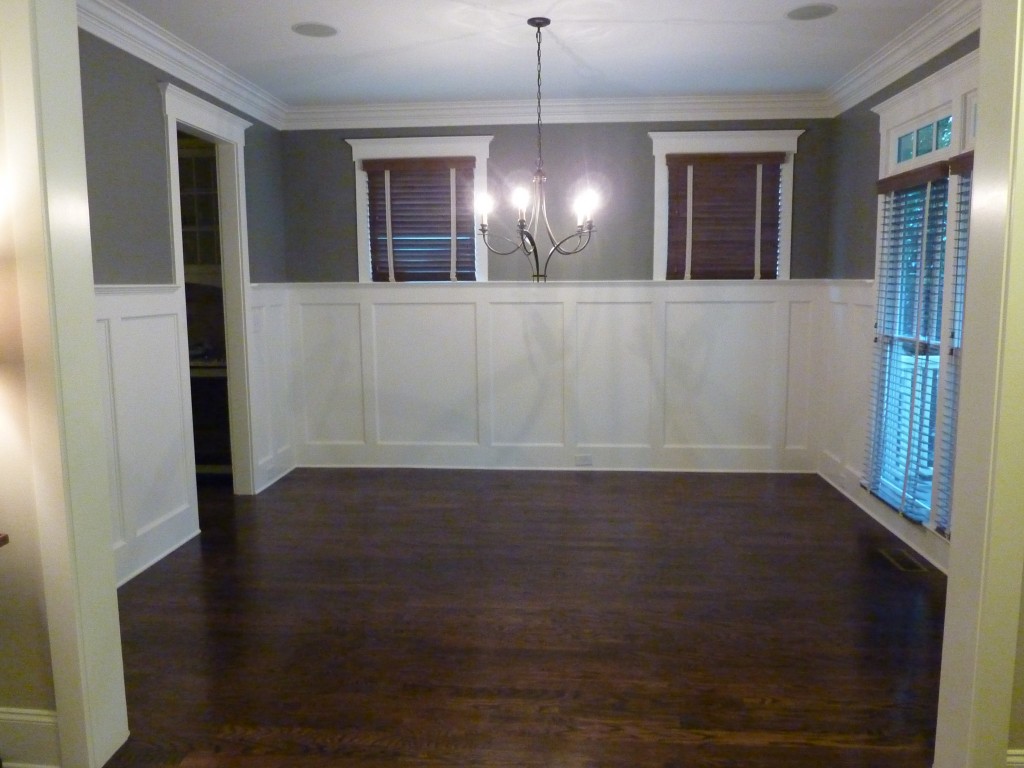 Dining room after: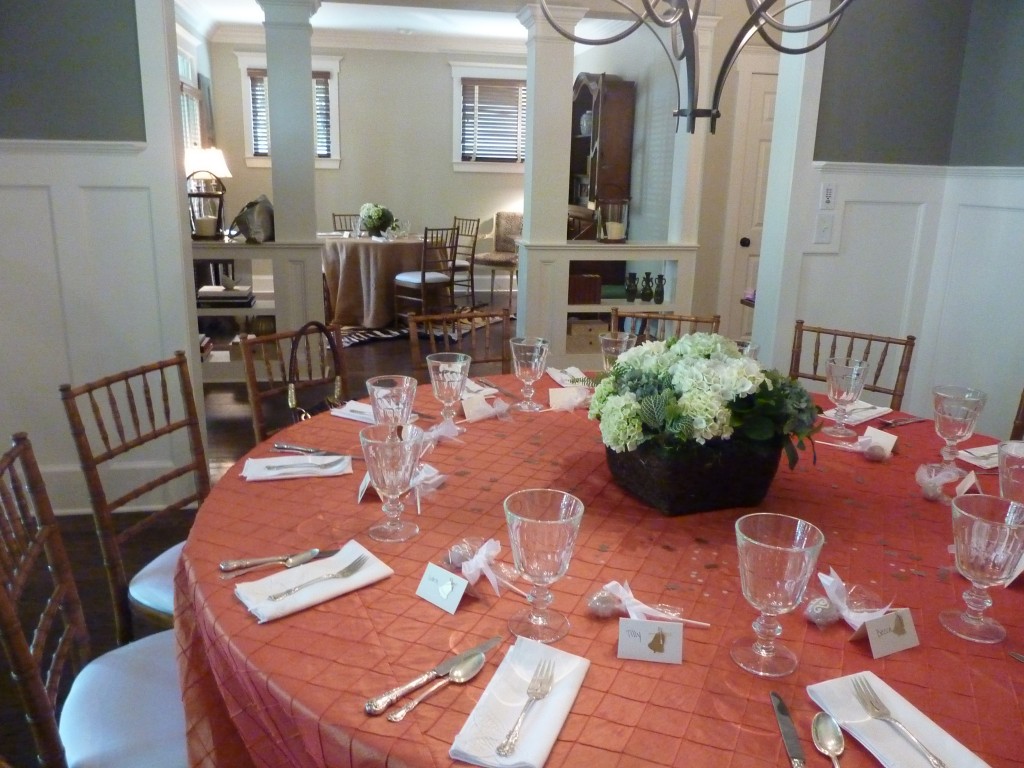 The 72′ round table is actually newly mine, as is the barely visible beige-ish tablecloth (both of which my deal-savvy parents were able to snag for a song). This will stay in the dining room until the far-too-distant-future when we can afford to splurge on a large French antique oval table. The coral overlay was an addition from my mom's collection to jazz up the celebration and add a little oomph to what she calls "the house of beige." The adorable chiavari chairs were on overnight loan from the wedding caterer. Understandably, I got pretty attached.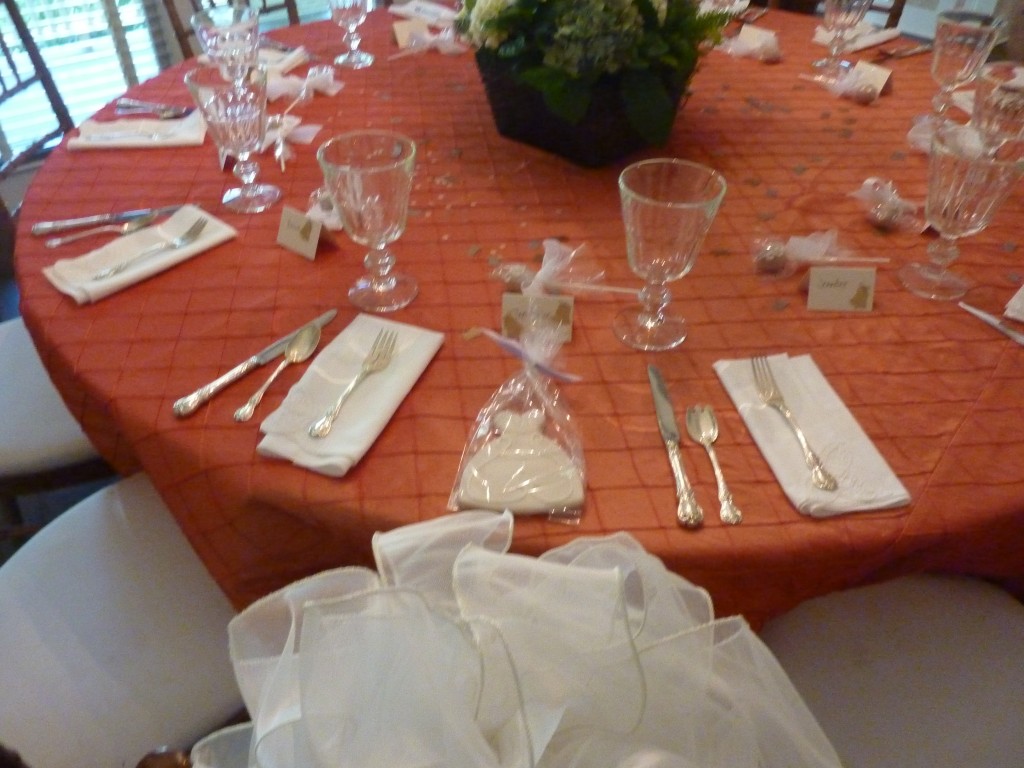 The women over 50 30 sat in here-what one day will be the future cozy-sophisto living room. Here it was before: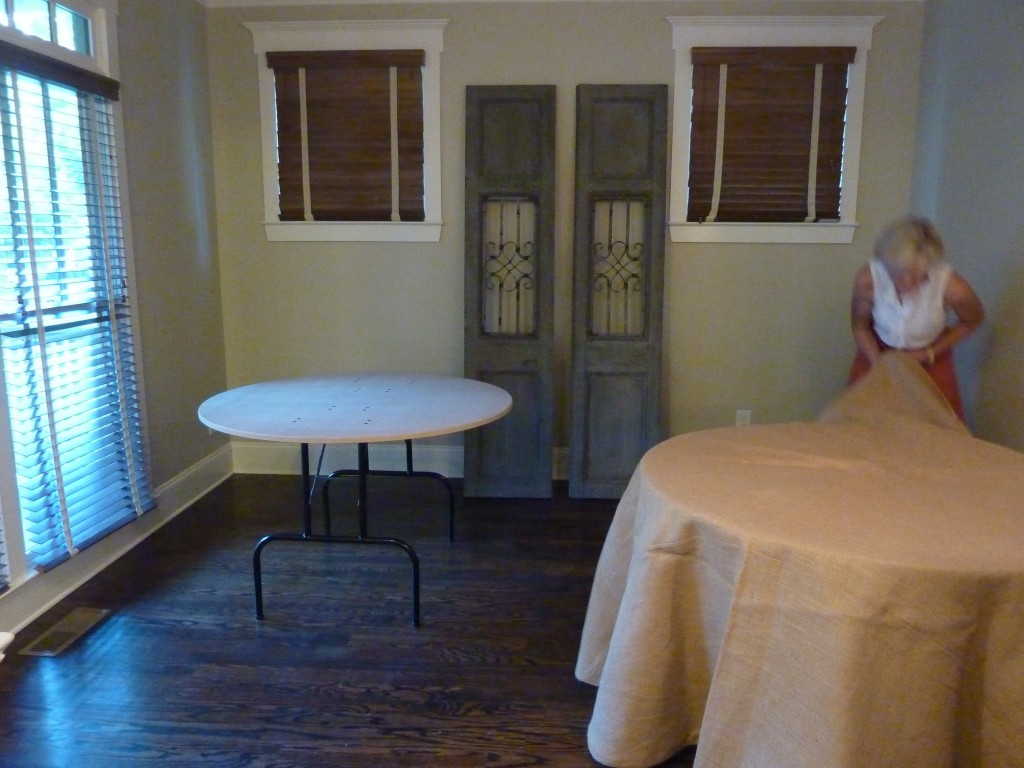 And ta-da! After:
I couldn't help but feel like the Barefoot Contessa when I was setting that table with a burlap tablecloth, linen napkins and pewter silver. But I need more eclectic friends with neat stores in The Hamptons to complete that little fantasy. One step at a time, I suppose.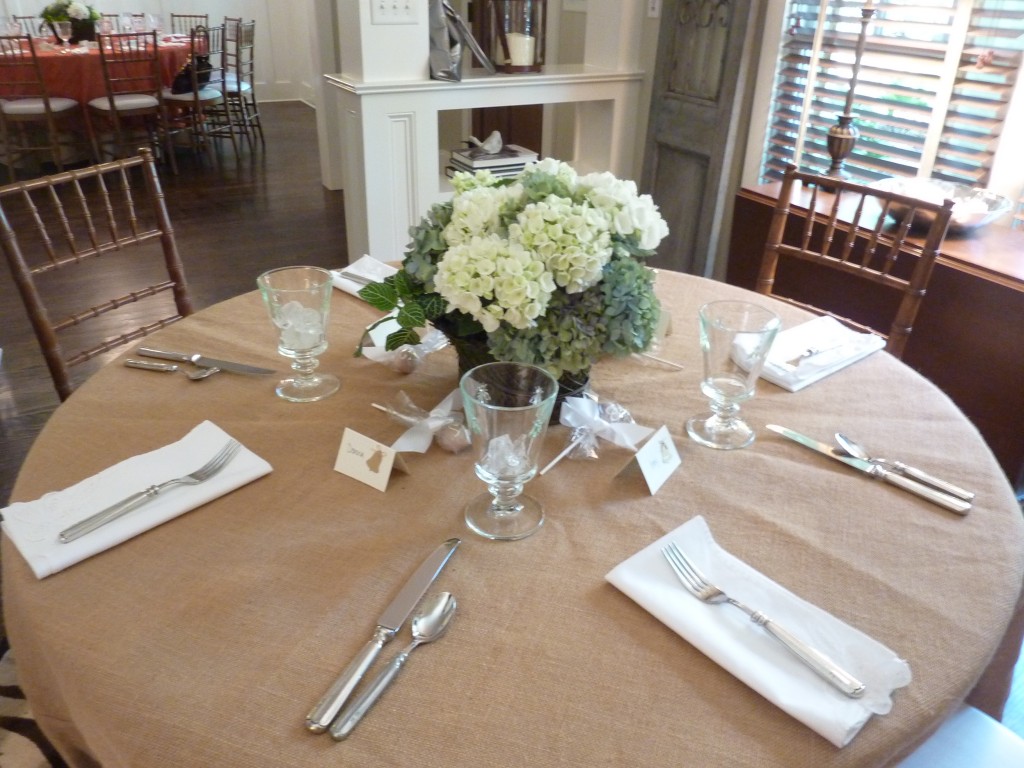 Who catered the shower, you might ask. Well, I did! I can hardly believe it myself. What to serve, what to serve…?
Raise your hand if you have ever been a bridesmaid.
Keep your hand up if you have ever gone to a bridesmaid's luncheon.
Now keep your hand high in the air if you were served chicken salad at that luncheon.
I see that every single hand is still in the air.
What is it about a gathering of women that necessitates a menu consisting of mayonnaise -laden chicken salad?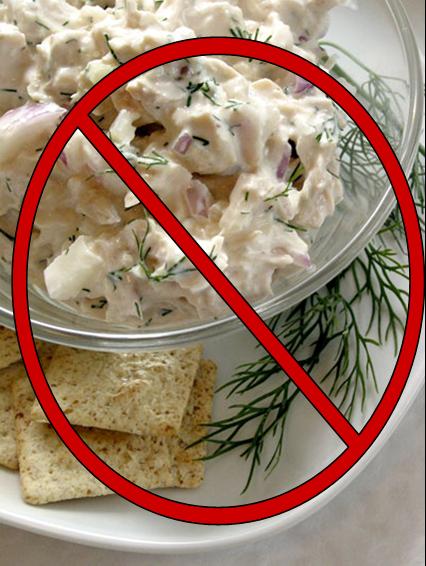 Because I didn't want to ruffle too many feathers and veer too far off the prescribed course for such an event (by serving something like BBQ or lasagna), I served…wait for it…chicken on a salad. There is a BIG difference between chicken salad and salad with chicken in it. Email me if you have any questions about that.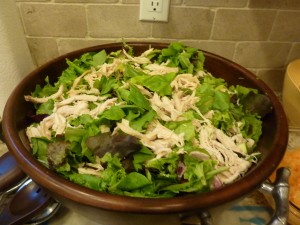 The entree that the bride requested for her second-to-last-lunch as a single lady is affectionately called "the salad" in my family and officially called "The Cornucopia Salad." It is always a crowd-pleaser and was easily quadrupled to serve 17.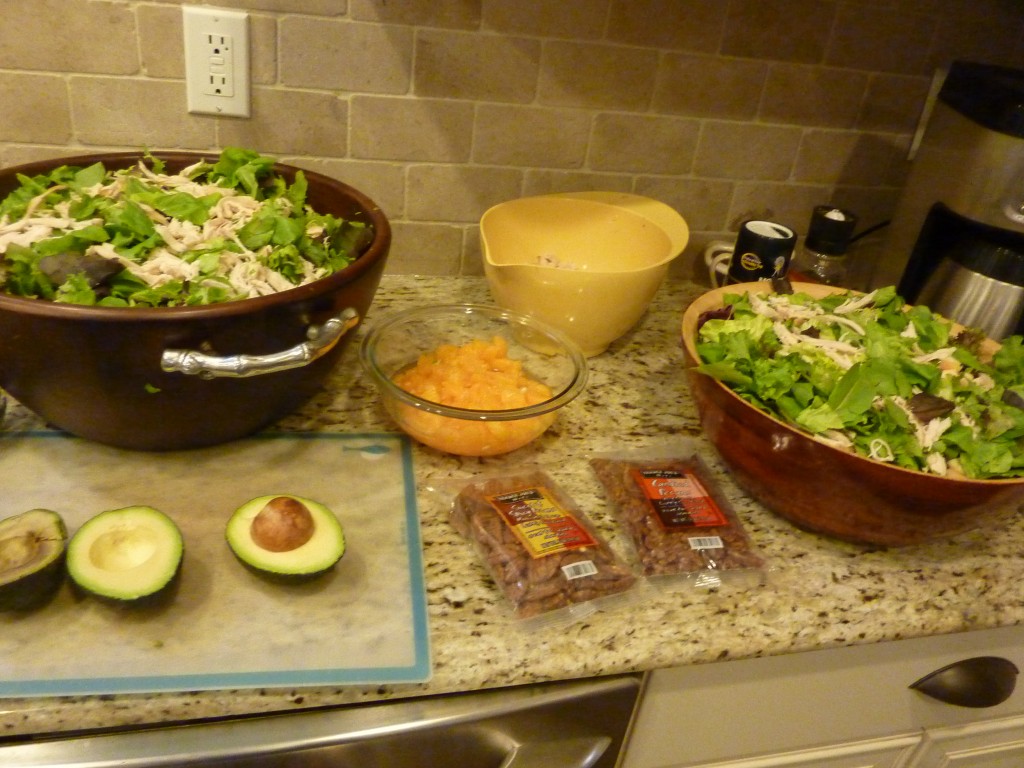 Cornucopia Salad
(serves 4 and doubles and triples easily)
Ingredients:
1/4 cup sliced almonds
1 tablespoon white sugar
1 large head green leaf lettuce or spring greens, torn
2 green onions, chopped
1 Granny Smith apple, cored and chopped
1 avocado – peeled, pitted, chopped and seasoned with salt and pepper
1/2 cup dried cranberries
1/4 cup crumbled goat cheese (or blue, or feta, or whatever cheese pleases you)
1 8oz can mandarin oranges, drained
1 rotisserie chicken, white meat only
Dressing of your choice: I used Trader Joe's Cranberry Walnut Gorgonzola Vinaigrette this time. Other recommendations: Balsamic vinaigrette, Trader Joe's Champagne Pear with Gorgonzola vinaigrette or any basic vinaigrette that you love.
Instructions:
Place the almonds and 1 tablespoon of sugar in a small skillet over medium-low heat, and cook and stir until the sugar melts and the almonds brown. Watch carefully because if you turn away for even just a minute, you will have a burnt mess and there will be no choice but to start over. Remove from heat and allow to cool. (In a pinch, you can also skip this step entirely and buy pre-seasoned walnuts or pecans).
Get a fancy French manicure on your way to Costco to pick up the rotisserie chickens. (Hormones and free-range livin' be dammed, Costco rotisserie chickens are the very, very best). De-bone, de-skin and remove all that tasty white breast meat from the chickens. Shred it in bite size pieces. Ruin your wedding manicure. Decide it was definitely worth it.
In a large salad bowl, mix the lettuce, green onions, apple, avocado, dried cranberries, mandarin oranges, chicken, goat cheese, and cooked almonds. No need to be exact on the measurements of these ingredients, just add as much or as little as you like
Toss with the dressing of your choosing and serve.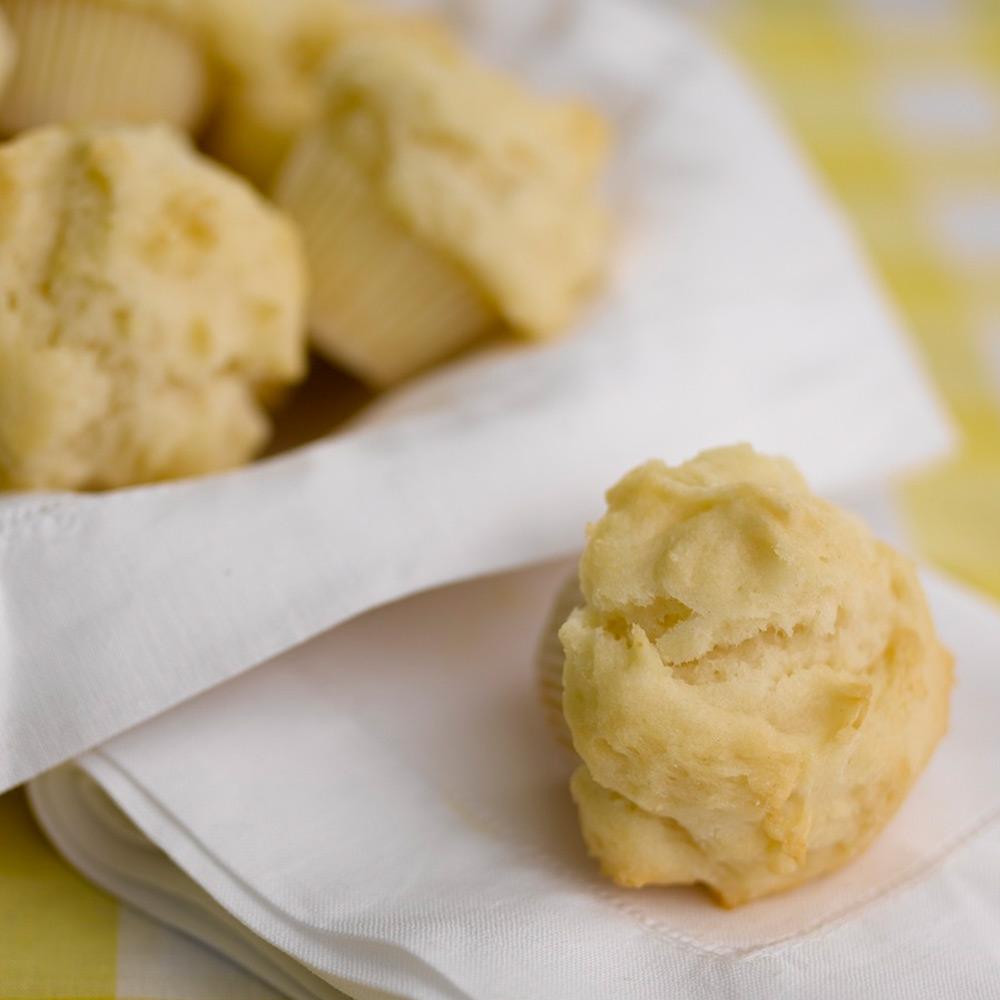 Along with the salad we served these delicious little butter muffins. They were divine warm from the oven. Recipe as follows:
Sour Cream Muffins
(makes 24-36 mini-muffins)
Ingredients:
2 sticks butter
1 8 oz. carton sour cream
2 cups self-rising flour
Instructions:
Melt butter, mix in sour cream with wire whip, then stir in flour.
Spoon into mini muffin tins (sprayed with PAM) and bake at 375 for 15-20 minutes.
And dessert, oh my heavens dessert.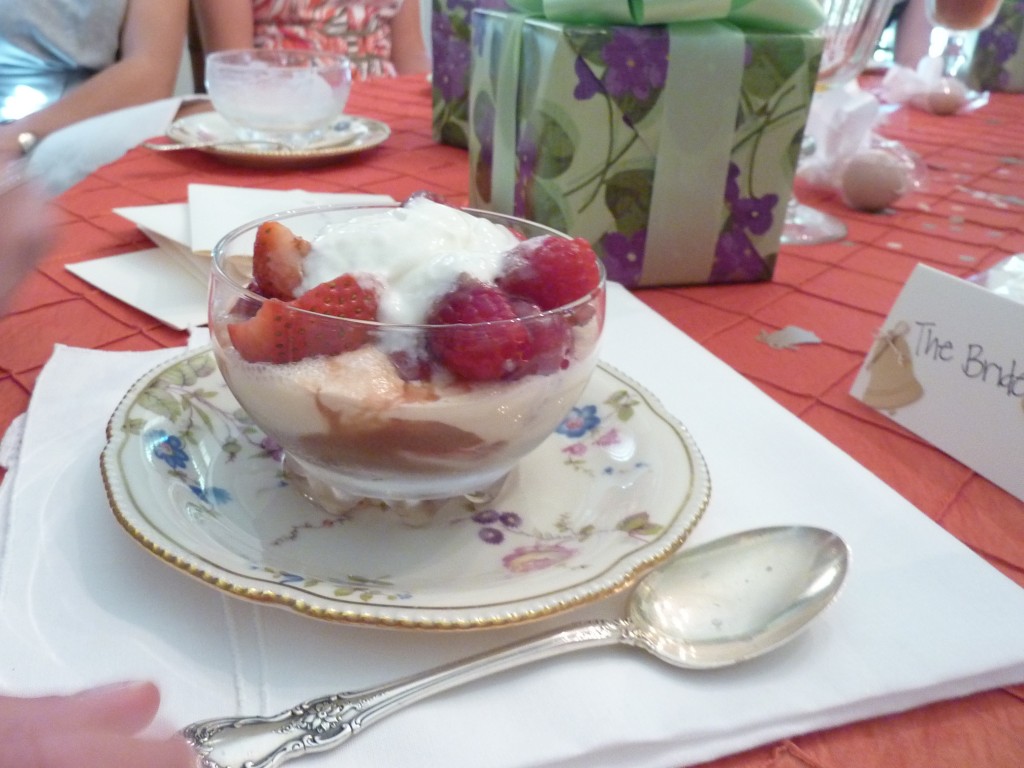 Vanilla ice cream toped with fresh berries and the most delicious warm toffee sauce you've ever had. My Man and I have been reheating the leftovers since the shower, and he insisted I blog the recipe for the benefit of my blog readers. It's that good! You know, life is tough these days. We might be on the verge of a double-dip recession and we are definitely on the verge of winter and the end of daylight savings time. I also have a newly married sister who may or may not be spending Christmas with our family. I don't know which is worse. What I do know is that this will help: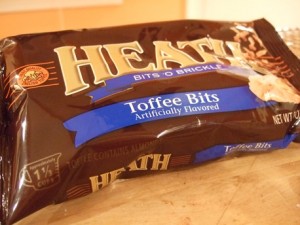 English Toffee Dessert
Recipe complements of my Aunt Susan.
Ingredients:
3/4 cup sugar
1/2 cup whipping cream
1/4 cup light corn syrup
2 tablespoons butter
1 cup Heath Toffee bits with chocolate
2 pints fresh strawberries
vanilla ice cream (optional but recommended!)
Instructions:
Combine first 4 ingredients in saucepan. Stir and allow to come to a boil for 1 minute. Remove from heat, stir in toffee bits and cool. Serve over strawberries (ice cream is optional) topped with dollop of whipped cream. Sauce may be made well ahead and left to stand, or refrigerated and reheated. Stir occasionally when reheating.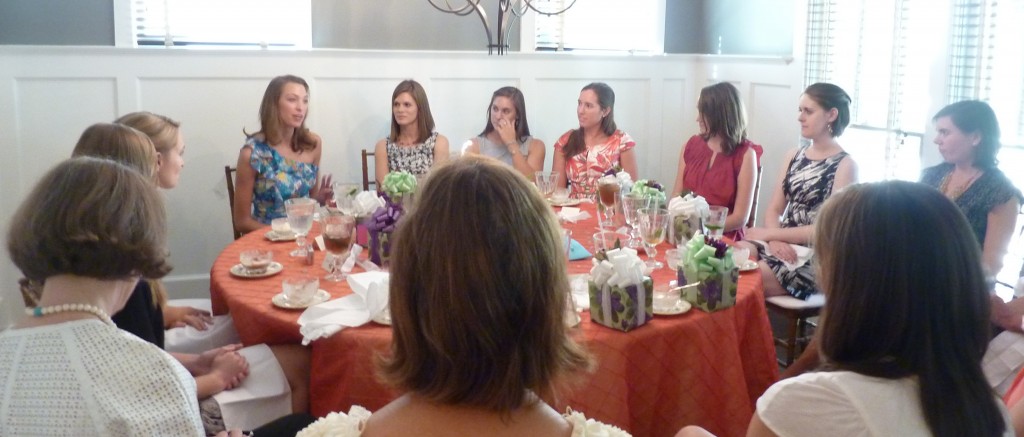 It truly was such a joy to host my amazing sister and her sweet friends, many of whom I consider friends of my own. It was a treat to have them all together, at the same table sharing delicious food (thankyouverymuch) and even shedding a spirit tear or two, thanks to my sister, who had us all misty-eyed when she went around and told each of us why we were so special to her.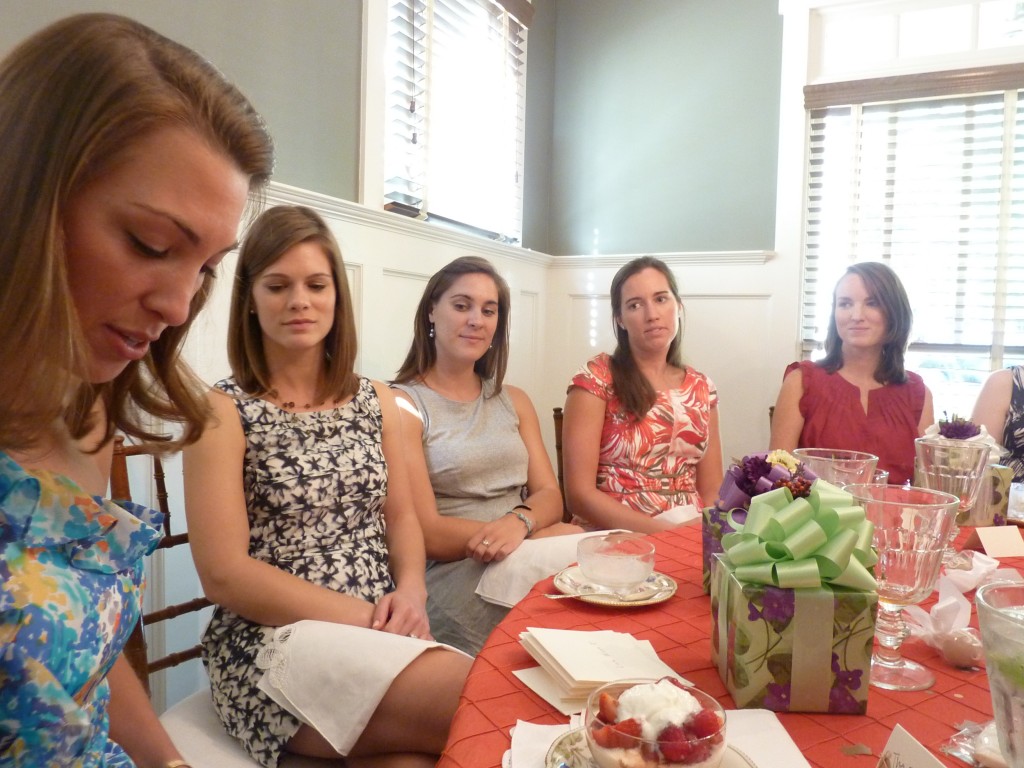 I'm only sorry I had to miss the 10am Zumba class that took place in my parents' tented driveway the morning before the luncheon.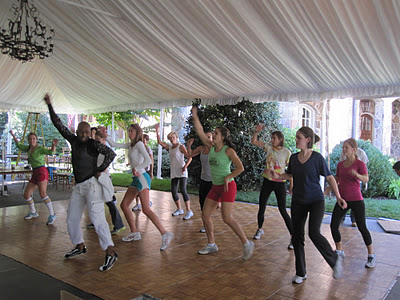 Apparently even my dad couldn't resist getting in on the action.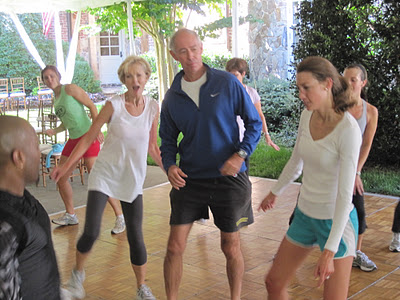 Wedding pictures coming soon…