Recommendations from a Young Reader
My nine-year-old is an avid reader. Before bedtime last night, I interviewed her about her favorite books and favorite series.  She gave me a quick tour of her bookshelf and highlighted the best of the best.  I took notes, as should you.  The words below are HERS: 
Ok! Let's start with the series I love…
The Penderwicks– I have read this whole series more than three times. Maybe even more. I like it because the books are about four sisters and their adventures. In the first book they go to this place called Adrunel for their summer vacation.  I like that it could happen in real life—realistic fiction. I also just like adventures and ya gotta love a really good series.
The Land of Stories – These books are the best. The series is about two kids who are twins. Their father died and their grandmother gave them a book for their birthday…but the book turns out to be a portal between two worlds! Then they go on a journey trying to find things so they can get back home. [REDACTED details she divulged.]  Wait! Don't type that.  It was a HUGE spoiler.
Nancy Drew – I love mysteries and I love suspense and stuff like that. I also really enjoy action. Nancy Drew books have all of those things. The Hidden Staircase and Password to Larkspur Lane are good places to start if you haven't read any yet.  (She then listed like 5 others but I couldn't type fast enough.).
Harry Potter– obviously. duh.
Whatever After – I like these because they are so fun and creative.  Jonah and Addie have a magic mirror in their basement, and it has a fairy trapped inside it.  She takes them through all different fairytales like Hansel & Gretel and Beauty and the Beast. They always try to fix the story. For example, in the story Dream On, they go into the story of Sleeping Beauty, it turns out she WANTS to get pricked by the spindle. (she elaborated on more of the plot here but I'll spare you the finer details.)
Roald Dahl (box set) – I liked when you read these out loud to me. And I have reread a few of them more than once. Charlie, Matilda, Witches, SO GOOD.
The Lion, The Witch, and The Wardrobe (Chronicles of Narnia) – loved it.  I read this one and before I really read chapter books I listened to this one on the old iPod. Remember the British accent? I loved that.  Whatever happened to that iPod?
The Spiderwick Chronicles– It's about three kids who move to a new house and the house is very mysterious and strange. They find out they're related to someone magical and I think it's SUPER creative.
Mysterious Benedict Society.  I loved the first one and I want the other ones for Christmas.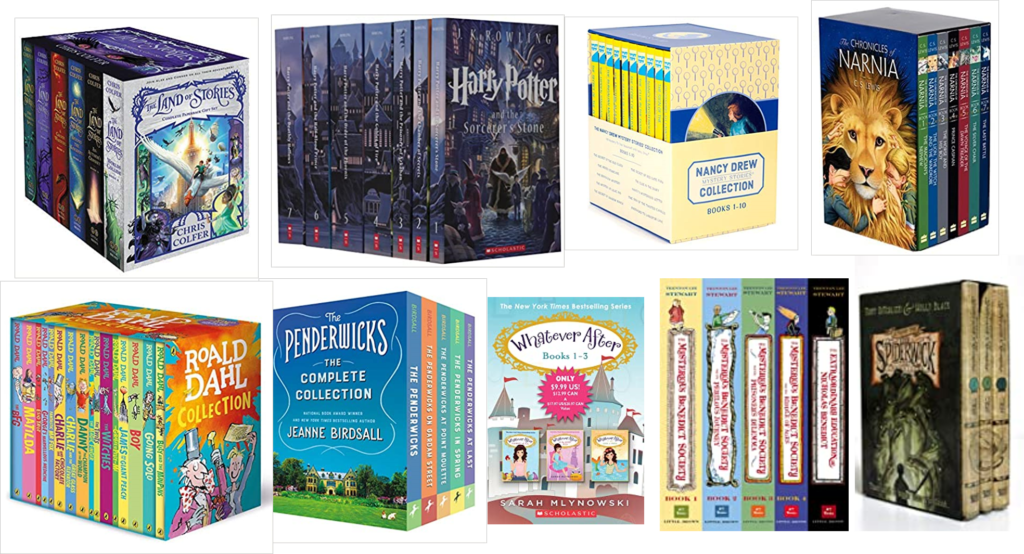 Other Favorites  – like not full out series but a book or a few books by the same author
Out of My Mind– top of the list. Loved this one. Highly recommend. A total favorite. I want the next one for Christmas.  It's called Out of My Heart
The War that Saved my Life and The War I Finally Won– I like the genre of realistic historical fiction and I enjoy stories of people who have gone through hard times. And I especially love books about people that are treated like they're less than human, who end up being powerful and really important in history.
Hoot – I'm reading this now. I actually just started last night. I'm very into it.
Wayside School books. So funny. You read these when you were younger, right mom?
Brave like That, From the Desk of Zoe Washington, and Tristan Strong Punches a Hole in the Sky were my favorites from Reading Bowl.
The Girl Who Drank the Moon. So SO good.
…
She wanted to recommend more, but I said it's bedtime.  So she got in bed.  And read.