A Family Trip that was actually a Vacation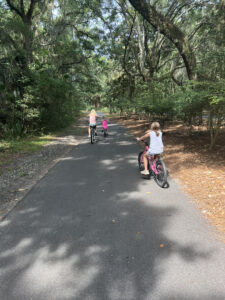 We just got back from the beach, and I am about to use an adjective I have never ever used to describe a family trip: RELAXING. This trip was relaxing.  In fact, I would even go so far as to use the word vacation.  Our family vacation was relaxing.  I'm just going to pause and let that last sentence sink in for a minute.
For many years, we returned from the annual family beach trip feeling haggard and exhausted. The swim diapers, the sunscreen, the overheated babies, the early mornings, and long days punctuated by suicide attempts by overconfident non-swimmers.  For a solid decade, we didn't even pack beach chairs because we knew there would be no sitting, only shoreside lifeguarding and anxious pacing on the pool deck. These trips to the coast were more expensive, more stressful, hotter versions of our life at home, but with a better view.  A relocation, not a vacation.  But my friends, we have entered a new frontier.
So, what made this trip a true vacation?
Eleven years and thousands of dollars of swimming lessons later, my kids can all swim. Game changer.
I never cooked dinner. We ate out every single night which was a treat all around.  And my kids (finally) know how to act at restaurants (more or less) so that helps.
The kids slept in. So did the grownups.
Two out of three of my children can read. At one point, we were all sitting on the beach reading our respective books. Honestly, I couldn't even keep my eyes on the page because I was so giddy.
We left my oldest in charge while John and I went out to an adults-only dinner. Twice! Not one but two date nights with a free babysitter.
Family bike rides, ice cream, movies, hours on the beach, crashing the pool at the fancy hotel, games, and gator sightings.  The cherry on top of an amazing summer.