Here is what the girls and I have been reading lately.  Away we go!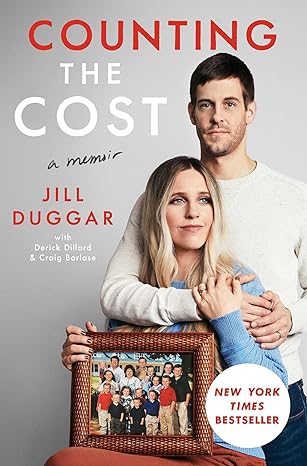 Counting the Cost by Jill Duggar Dillard
Jill is #4 of Jim Bob and Michelle Dugger's 19 kids…and counting.  Still counting because neither Jim Bob nor Michelle has been spayed or neutered and children are, of course, a blessing.  Jill's book is the second book written by an adult Duggar child.  I read child #5 Jinger's book Becoming Free Indeed earlier this year and just finished Jill's book.  Jinger's book was 30% about the damage done by the IBLP cult that she was brought up in, and 70% about her faith journey of untangling. Untangling from the harmful counterfeit compliant faith of her youth and coming into her own as an adult woman who deeply adores Jesus. It had a devotional tone, for sure.  Jill's book was 30% about the IBLP impact on her faith and family and 70% about her relationship with her father, the damage caused by the TV show, and the shady way Daddy Jim Bob dispersed the paychecks. Jinger walked so Jill could run.  They are both, understandably so, still on the journey of sorting fact from fiction and grappling with the ripple waves of damage caused by Bill Gothard's bogus and dangerous biblical translation.  I have read two Duggar child books and I will read all 17 more, pending future publication.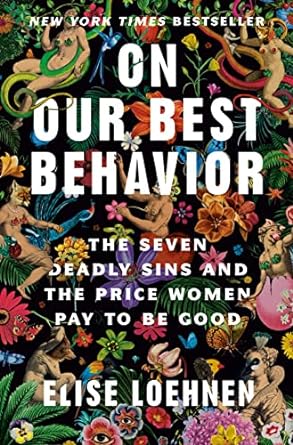 On Our Best Behavior (The Seven Deadly Sins and the Price Women Pay to be Good) by Elise Loehnen
This was our recent book club selection, chosen for the fact that it would be the catalyst for some great discussion.  That is what makes a good book club pick. Fiction conversations occasionally fall flat, but nonfiction conversations can grow wings.  This one had wings and enabled us to go deep. Does that mean it is an incredible book? Not necessarily.  This one has highs and lows (sweeping generalizations, woo-woo jargon, goop defector only mildly recanting, a little too academic in some parts, and maybe TMI personal in others) BUT the broad concepts are worth digging into.   We met to discuss it last week and the discussion was so rich, that we are going to make it a two-parter.  I had only read about half the book at the time of our meeting but was so inspired and curious about the parts that I missed that I will definitely finish the rest.  Very excited to continue the conversation.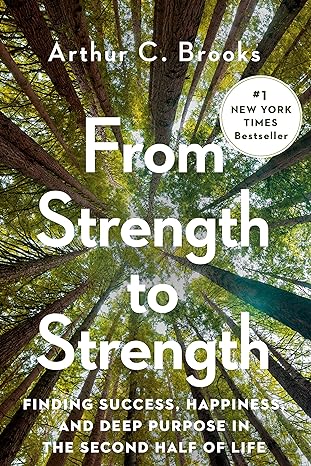 From Strength to Strength: Finding Meaning, Success, and Deep Purpose in the Second Half of Life by Arthur C. Brooks
I love a good second-half-of-life book.  I am a fresh 41 and certainly hope I'm not halfway home yet BUT I do want to be mindful of the way I approach the time I have left.   I LOVED The Second Mountain by David Brooks.  I LOVED Falling Upward by Richard Rohr.  And I'm loving From Strength to Strength so far.  This was highly recommended by trusted friends and would be another one worthy of journaling through and discussing.  (just saw this audible deal if that's your preference)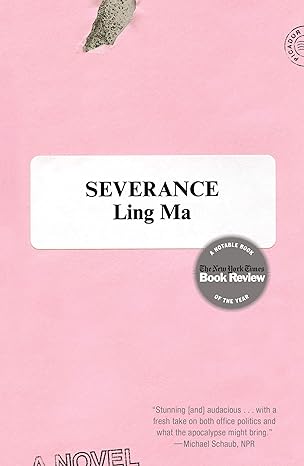 I wanted something spookyish or mildly haunting since this is indeed, spooky season.  This fits the bill.  It takes place in a post-pandemic America (this pandemic was the Shen Fever, a plague that renders people into non-violent zombie versions of themselves, doomed to repeat the same rote tasks over and over until they become fully unconscious).  This book is deep, quirky, clinical, and very readable.  Speaking of post-pandemic, have you read Station Eleven?  Do that.  And a moment of silence for the excellence of HBO's miniseries retelling.  All caps WOW.  One of the best shows maybe ever? Add it to your list.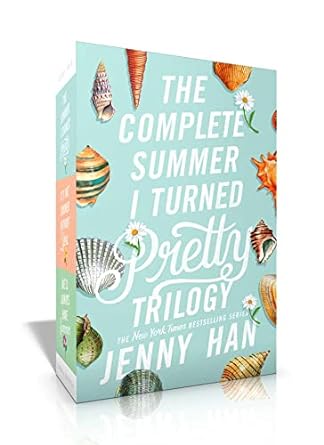 The Summer I Turned Pretty by Jenny Han
I literally just finished this one on the way to middle school drop-off this morning.  I did this on audio with my 6th grader.  We listed as we drove around town, and we would go on walks each with one air pod listening to the YA melodrama unfold.  She certainly had some questions and I had to define some sexy slang—but this was actually a great segue to fill in the gaps between "the talk" and the lived experience of teenagers.  I am trying to be very low-key and chill about all of that terrifying next frontier, and I actually thought this was a good avenue for mother-daughter chats.  We are about to start the sequel…
Have you watched the show?  That will be the next stop on our journey but only AFTER we read the books because them's the rules.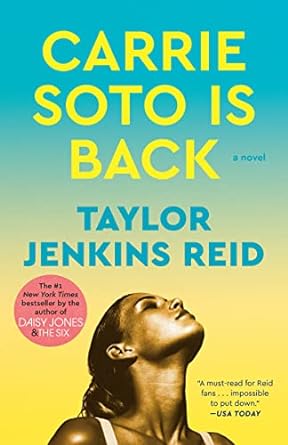 Carrie Soto is Back by Taylor Jenkins Reid
I have read all of Taylor Jenkin's Reid's best sellers.  Granted, I am usually a few years behind the times.  Carrie Soto was her most recent hit about an aging tennis star making her comeback.  There is romance, father-daughter relationships, and the agony and ecstasy of professional sports.  (And side note.  Have you watched Daisy Jones and the Six on Amazon?  I think the show was better than the book.  Add it to your list.  Especially if you are an Almost Famous fan like me.)  I'm not quite finished with Carrie Soto yet, and so far I give it a solid B.  The Seven Husbands of Evelyn Hugo remains my favorite of the TJR cannon.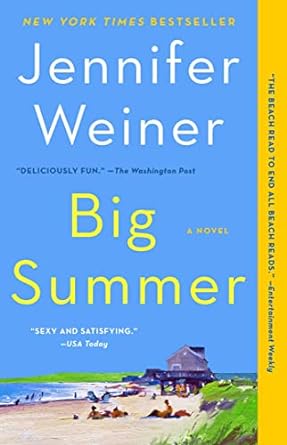 Somehow, I have never read a Jennifer Weiner Book.  Let's fix that.  She is a chic-lit icon and I was in the mood for exactly that.  Something that was engaging but doesn't require excessive amounts of brain power.  I just started and so far so good.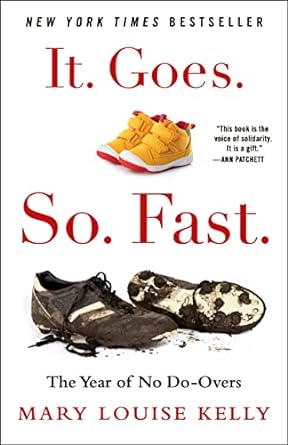 It. Goes. So. Fast: The Year of No Do-Overs by Mary Louise Kelly
 If you don't know the name Mary Louise Kelly, you probably know her voice from NPR's All Things Considered.  In this memoir, she shares the challenges of having a deeply meaningful career with the desire to be present as a parent in her sons' last few years before college.  I really love that she is living in the tension of wanting to be in two places at the same time and the deep purpose and fulfillment she finds in her role as a journalist and as a mother.  She shares her professional triumphs and struggles, parenting wins and losses, and the heartache that comes as our children and our parents age.  I am about halfway through and have teared up a few times already. That rarely happens to me with books. I'm a robot.
And here is what the young readers in this house are enjoying…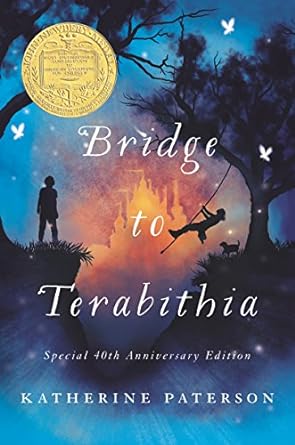 Bridge to Terabithia by Katherine Paterson 
I remember LOVING this as a young lass but I can't remember a dadgum thing about it.  I started this last night as the bedtime read-aloud for my 2nd and 6th graders.  Really looking forward to getting into it.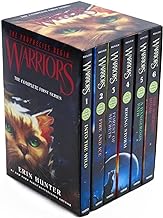 Warriors (book series) by Erin Hunter
Something about cats? But they are warriors? (Sounds dreadful. But I'm not the target audience) My 6th grader has absolutely devoured the first three of the wildly popular series and begged me to get her the next ones.  These are a huge with kids like mine who love fantasy novels.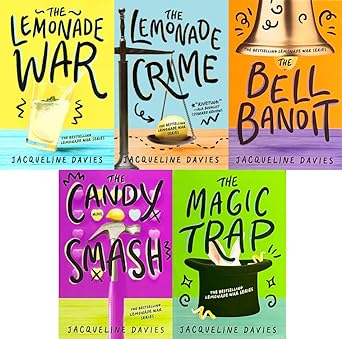 Lemonade War (series) by Jacqueline Davies
The 2nd grader has read and reread these. Then read them again.  I read Lemonade War and Bell Bandit to her and she read (and reread) the rest on her own.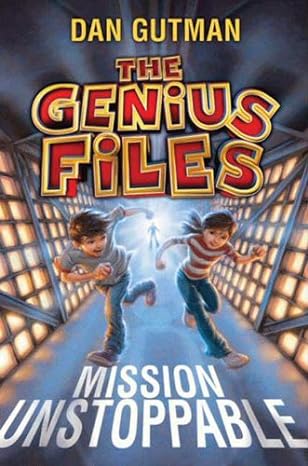 I spent a very frustrating hour at the library with my 2nd grader trying to find her a NEW book to read.  She graduates towards the familiar (see above) and judges books by their covers so when we finally (finally!) landed on the Genius Files, we were both happy.  Big sis loved this series, and my 2nd grader has been loving book one and sharing the highlights with me along the way.  So far so good.