I promise this is not and will not be a blog about how wonderful my marriage is and how every day I am more in love than the day before.  But today it will be a little like that.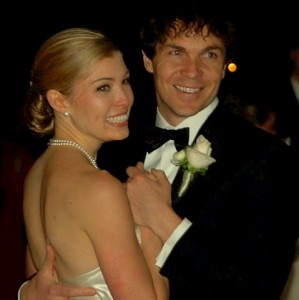 This is our one year anniversary.  A year ago today we exchanged vows in the presence of our dearest friends and family at the church I grew up in.  Having all of the people who are close to us together in the same place gave me chills and I couldn't help but tear up as my father walked me down the aisle.  We celebrated at the reception, so generously and beautiful hosted by my parents at their home.  The weather was ideal and the flowers were stunning. The food, the wine, the cake and warm chocolate chip cookies were delicious.
Old and young united on the dance floor. It was on fire.
I couldn't have asked for a more perfect day.
And that was just the beginning.
I have enjoyed every day of being My Man's wife.  He makes me feel so loved and uniquely adored, although I don't always deserve it.  He makes up songs with silly lyrics on his guitar and I dance to them.  He makes me laugh.  I love his laugh.  He rarely says no to a game of Gin, dice, Phase10 or Bananagrams, despite the fact that this might not be his ideal way to spend time.  He asks really thoughtful questions.  He inspires me to run up the hills instead of walking like I am inclined to do.  He goes on walks with me, even though I know he would rather run.  He loves good music and maintains an enthusiastic and unselfconscious dancing ethic. He is an amazing and faithful friend.  He makes it easy for me to admit when I am wrong.  He tells me exactly what I need to know to get into a sports game that before him, I never would have cared about—he knows exactly how to make me passionate about one team or the other by including the details of a coach or player's personal life or a team's struggles.  He has an incredible amount of integrity.  He kindly fulfills my request when I tell him "I really need a compliment." He maintains the perfect balance of humility and confidence, especially amazing for someone who truly deserves to be cocky.   He inspires me to be a better daughter, sister and friend.  I feel blessed to be able to spend every day with him.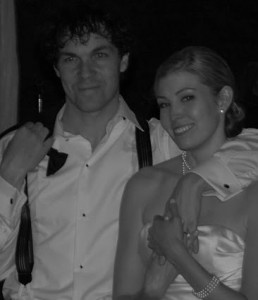 Tonight, so says the tradition, we will eat the top of the wedding cake we saved for our 1st anniversary.  The cream cheese frosting might not have made it through the year freezer burn free—but I'm sure the champagne will taste just fine!