New Classic Thanksgiving Desserts
Buying a house, refinancing a mortgage, and having children were all small indications that I may be en route to becoming a real grownup.  But nothing has made me feel like more of an adult than hosting this year's Thanksgiving festivities.
In a few short days, both sides of the family will be coming over to our house for turkey and all the fixings.  HELLOooo DRAMA!  Kidding. The in-laws get along swimmingly.  The only drama will be trying to pull off the highest-stakes meal of the year with a single oven and a smile.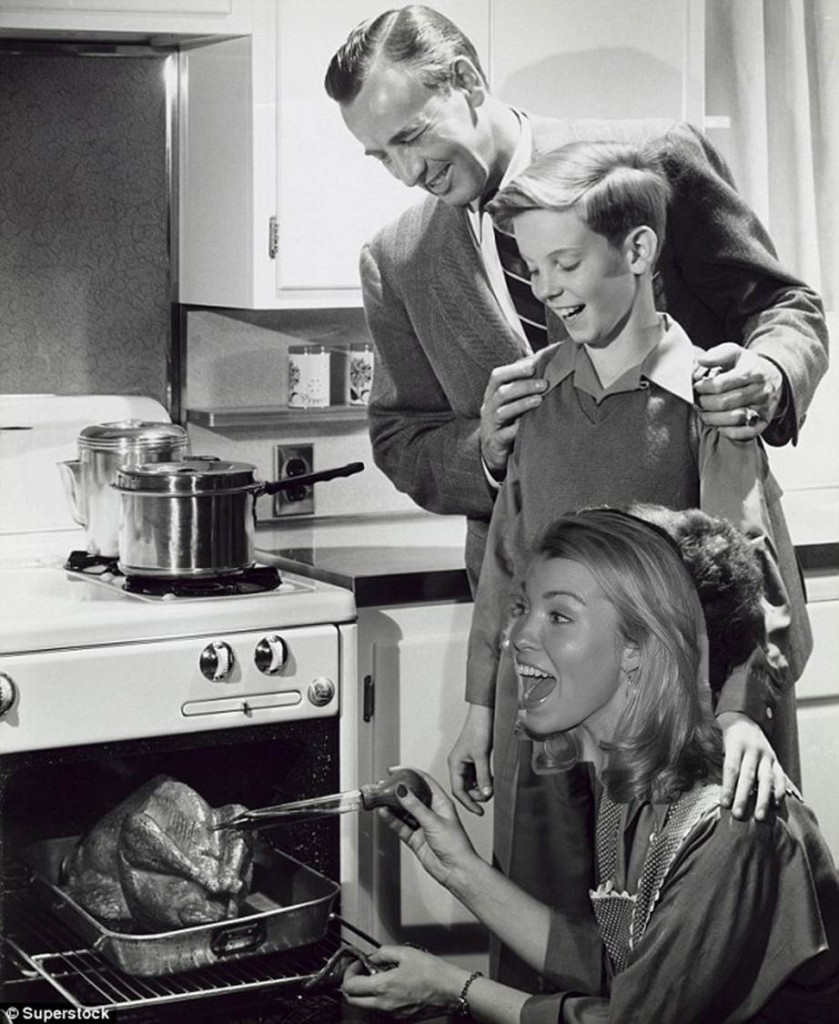 If there was ever a time to hire a caterer polish up Mema's silver and unbox the fine china, this would be it.  Honestly I can't quite remember what my china looks like since I added it to my wedding registry eight years ago, but I'm crossing my fingers that I had the good sense to register for something tasteful and timeless.
There's a lot to do between now and then, and according to Pinterest I'm already way behind in making preparations for Thanksgiving 2018. Though I haven't quite nailed down the entire menu, I have made two key decisions:
I've outsourced the preparation of the turkey. (I'm extra thankful for you this year, Dad.)
I've planned out which desserts to bake and serve on the big day…
Now this may be a tad scandalous for my first Thanksgiving, but I can tell you what won't be on our Thanksgiving table: Pumpkin Pie. In its place, I'm serving THE BEST PUMPKIN DESSERT EVER, Pumpkin Gooey Butter Cakes. I posted this recipe years ago but it bears re-posting because it is so dang delicious. I brought a batch to a Friendsgiving celebration a few weeks ago and have received multiple requests for the recipe since. Be a holiday hero and make these for you and yours: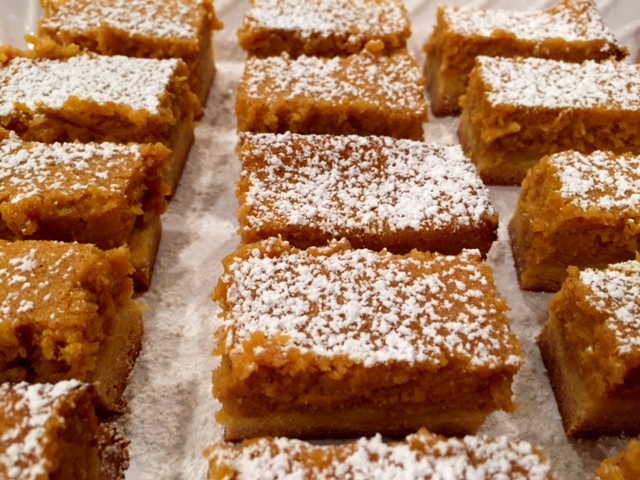 Pumpkin Gooey Butter Cakes
Ingredients
Cake:
1  box yellow cake mix
1 egg
8 tablespoons butter, melted
Filling:
1 (8-ounce) package cream cheese, softened
1 (15-ounce) can pumpkin puree (NOT pumpkin pie filling)
3 eggs
1 teaspoon vanilla
8 tablespoons butter, melted
1 (16-ounce) box powdered sugar – equivalent to 3 3/4 cups (reserve 3 Tbsp for dusting)
1 teaspoon cinnamon
1 teaspoon nutmeg
Directions
Preheat oven to 350° F.
Combine the bag of cake mix, egg, and butter and mix well with an electric mixer. Pat the mixture into the bottom of a lightly greased 13x 9-inch baking pan.
To make the filling: In a large bowl, beat the cream cheese and pumpkin until smooth. Add the eggs, vanilla, and butter, and beat together. Next, add the powdered sugar, cinnamon, nutmeg, and mix well. Spread pumpkin mixture over cake batter and bake for 40 to 50 minutes.  Check on them after about 35 or 40 minutes so you make sure not to overbake them. The center should be set but a little gooey.   Let the pan cool completely before you cut the squares. You could even pop the cooled pan in the fridge before cutting them to get extra clean cuts.  Dust them with powdered sugar to make them extra pretty before serving them. Enjoy and prepare to be praised.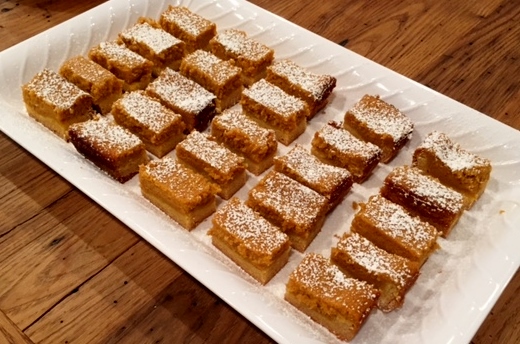 The other desserts that I'm making are the Fresh Apple Cake from my mom's vintage copy of the Tea-Time at the Masters Cookbook and a Chocolate Chess Pie. It tastes like the best brownie ever but in pie form, and like most desserts, it is best served warm with ice cream.  That recipe hails from an old issue of Southern Living Magazine: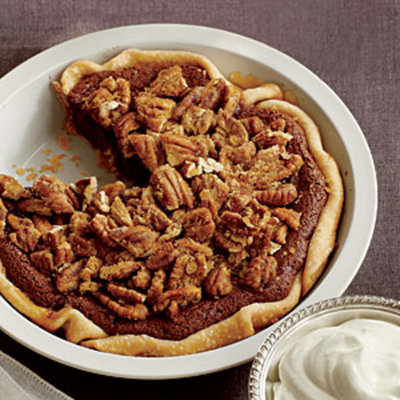 Chocolate Chess Pie with Pecans
Ingredients
1 packaged uncooked refrigerated pie crust (like this)
1/2 cup butter
2 (1-oz.) unsweetened chocolate baking squares
1 (5-oz.) can evaporated milk (2/3 cup)
2 large eggs
2 teaspoons vanilla extract, divided
1 1/2 cups granulated sugar
3 tablespoons unsweetened cocoa
2 tablespoons all-purpose flour
1/8 teaspoon salt
1 1/2 cups pecan halves and pieces
2/3 cup firmly packed light brown sugar
1 tablespoon light corn syrup
Directions
Preheat oven to 350°. Roll pie crust into a 13-inch circle on a lightly floured surface. Fit into a 9-inch pie plate; fold edges under, and crimp.
Microwave butter and chocolate squares in a large microwave-safe bowl at MEDIUM (50% power) 1 1/2 minutes or until melted and smooth, stirring at 30-second intervals. Whisk in evaporated milk, eggs, and 1 tsp. vanilla.
Stir together granulated sugar, cocoa, flour, and salt. Add sugar mixture to chocolate mixture, whisking until smooth. Pour mixture into prepared crust.
Bake pie at 350° for 40 minutes. Stir together pecans, next 2 ingredients, and remaining 1 tsp. vanilla; sprinkle over pie. Bake 10 more minutes or until set. Remove from oven to a wire rack, and cool completely (about 1 hour). *Extra delicious served with ice cream.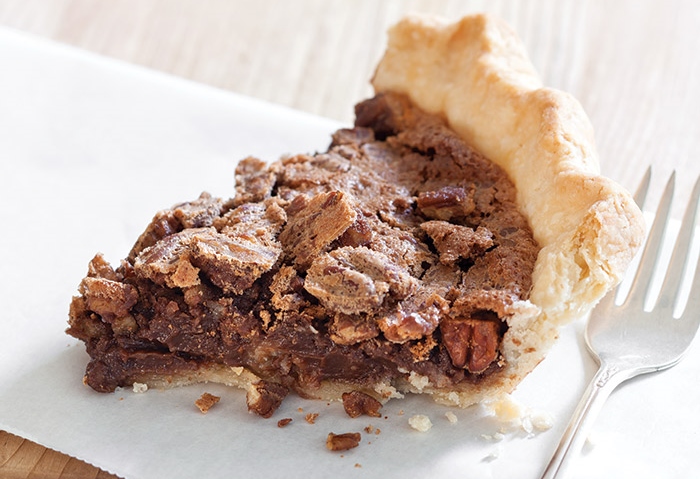 I figure as long as there is good wine, good music and good desserts, everything that happens in between will be forgotten or forgiven.
Gobble gobble.