All that babies really need is food, sleep and love. Aaaannd apparently a whole bunch of other stuff. This is America after all!
When I was pregnant I asked a bunch of my mom friends for their must-haves. I wanted to drill down to the stuff that we really needed…and learn from the mistakes of the mothers-to-be who bought wipe warmers and the like. I got lists and links and spreadsheets full of favorites that were really helpful as I navigated the aisles of infant paraphernalia. Now that I am a mother, I have a list of my own. This is the stuff we really use(d) that I consider must-haves–the items that made our first six months happy for both mother and child.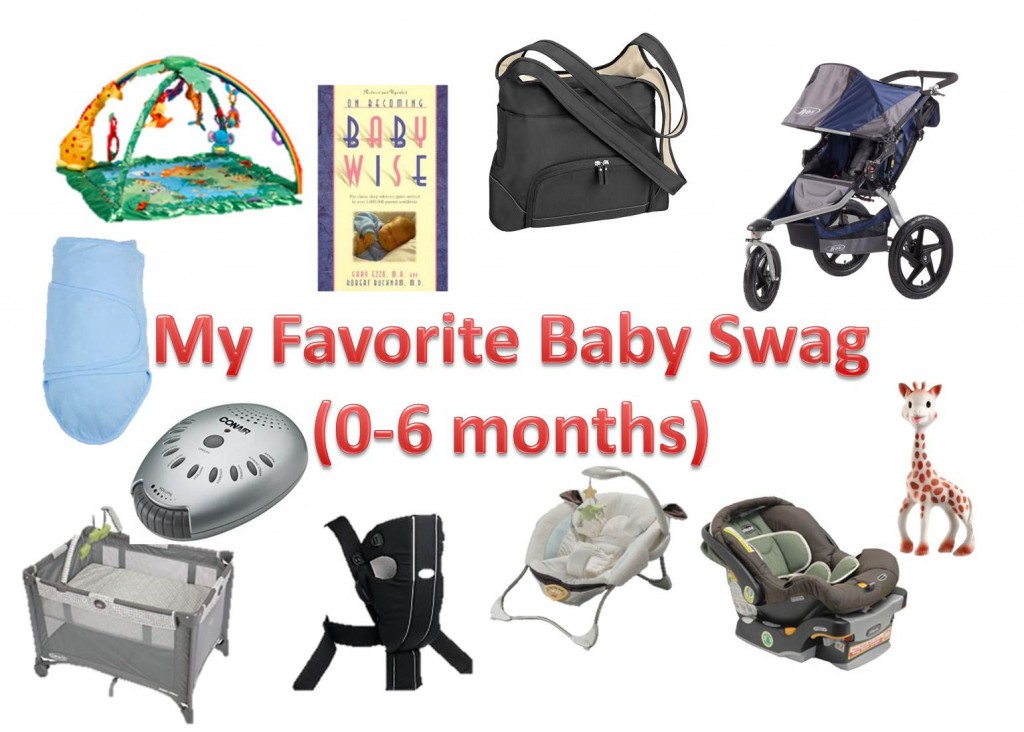 Play Mat (Fisher-Price Rainforest Melodies and Lights Deluxe Gym) : Starting at around four weeks, when her depth vision exceeded 12 inches, That Baby began her love affair with her play mat. She would lay there with a grin and happily stare at the purple butterfly for hours. A few weeks later she discovered the dangling toys and then learned to grab them. Her first 360 spin and first roll happened on that mat. Milestones, people, milestones. Because she is so content to play and roll on that little mat, I am free to do the things I need to do without a baby in my arms. Independent play time for my child equals independent play time for me, her mother. Holla.
When we came to pick her up after her first stint in the church nursery, the kind nursery caregiver told us that Harper was "such a happy baby! And just as happy as can be playing by herself." I took it as a compliment. Then I felt guilty because omygosh maybe I'm not playing with her enough? What does this mean? Am I neglecting my child? Do I not hold her enough? Didn't she miss me at all? Then I took it as a compliment…a compliment made possible by her good training on the Fisher-Price Rainforest Melodies and Lights Deluxe Gym.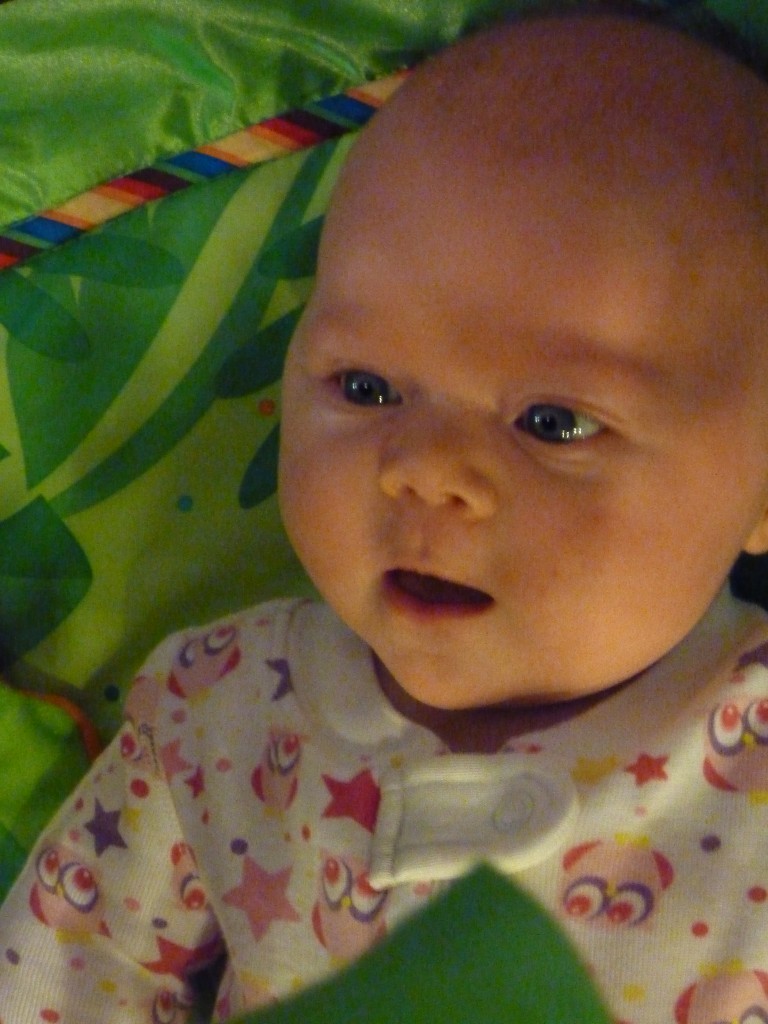 Additional selling points: The dangling toys can be moved around and re-purposed–we attached one to her car seat. And I didn't even turn on the lights and sounds until a few weeks ago and now she goes crazy for them. It also folds up real nice and goes into the closet when That Baby goes to bed, allowing us to reclaim our living room.
(And just like that, I wrote 314 words about a play mat. A play mat. If my college self could see me now…)
Walking and Jogging Stroller (BOB Revolution SE Single Stroller) : If our house was burning down and the fireman said that I have 30 seconds to go salvage one (1) baby item from the flames, I would get the BOB. I didn't know it was possible to have a love so deep for a stroller. The BOB is pretty much the Lexus LX570 of strollers. It costs as much as your dad's first car but it's worth it and we use that thing almost every day. It corners like a dream and Harper is so cozy in there that she usually falls asleep while we stroll. I walk with it on the reg and My Man runs with it and he loves it too. Simply put, it is the best. I did my research so save yourself the trouble. What I didn't consider though is what we'd do if by any chance we had conceived twins instead of Harper. We all know that a single stroller wouldn't be able to work for twins as there would only be room for one baby. Luckily my friend had twin girls last year and found her perfect stroller online. What's even better is that it is a car seat stroller so the car seats can be used on any long car journeys too. I think she said she got it from a company called Stroller Buzz (www.strollerbuzz.com/best-car-seat-strollers-for-twins) so if you're welcoming twins, then it may be in your best interest to have a look at the products that this site has to offer. You can thank my friend for this recommendation as I wouldn't have known where to look.
White Noise Machine ( Conair SU1W Sound Therapy) : Apparently the womb was pretty noisy, so newborn babies are particularly comforted by the sound of white noise. Now that she is no longer a newborn, adults in our house are particularly comforted by the sound of white noise. We crank it up in her nursery and close the door, allowing us to have loud dinner guests and dance parties while Harper sleeps soundly. Thanks to her noise machine, That Baby doesn't hear a peep.
Baby Seat (Fisher-Price My Little Lamb Deluxe Infant Seat and ) : Unless you are of the babywearing ilk, you need to have somewhere to put your baby when you need to put her down and the floor just wont do. At six months, Harper is still quite content sitting in her bouncy seat chewing on her Sophie and watching the action. (Though I turned around the other day and she was headed for the door. That's one adorable little escape artist. So I would recommend using the straps once your baby becomes mobile).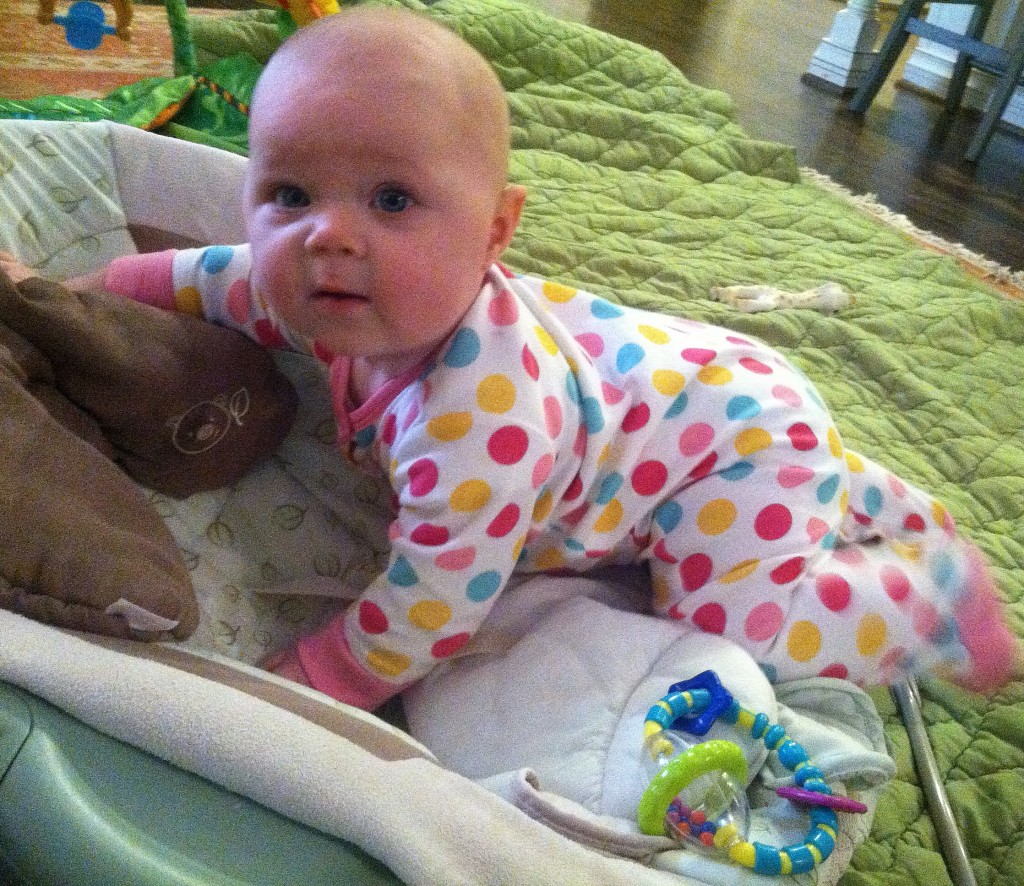 The vibrate setting was particularly useful to settle her down when That Baby was little bitty. Aesthetically speaking, the colors of this seat are nice and neutral and not quite as abrasive as the playmat and other themey baby gear. So if, if, Martyn Lawrence Bullard or Mary McDonald were to come to call, they wouldn't have a total conniption if it were out in the living room. (Thank God Andy Cohen that Million Dollar Decorators is back for season two.)
BabyBjorn (BABYBJORN Baby Carrier Synergy) On the subject of babywearing, there is a certain school of parenting thought that promotes round the clock baby holding and wearing, and there are forums and chat rooms and even an online association dedicated to the practice. Apparently it is a way of life/parenting philosophy akin to co-sleeping and attachment parenting. That is not really how things go down in our house, but there are some serious advantages to having a hands-free way to carry your little one. I don't strap Harper on when I'm in the house, but when I am out and about running errands, strapping her in and wearing her like a little kangaroo pup is the easiest way to get things done. Thanks to the Bjorn, I have both hands free to put things I didn't know I needed into my cart at Target. And because That Baby isn't quite sturdy enough to be able to sit in the grocery cart just yet, I always use the Bjorn when I go to the grocery store. In fact, I just used it the other day when we went to Whole Foods. Hippies at Whole Foods and the natural food store love love love to see you wear your baby. They practically clap for you as you walk down the aisles and shower you in organic quinoa and hemp milk.
Breast Pump (Medela Pump in Style Advanced Breast Pump with On the Go Tote ) : If your husband wasn't traumatized enough after watching his precious wife birth an eight pounder, seeing this contraption in action will do the trick. I don't really need to explain the logistics of this one, but needless to say, it gets the job done. Though I'm still not sure where the "style" part comes from.
Miracle Blanket Swaddle (Miracle Blanket Swaddle) : Harper slept longer and stronger when she was bundled up like a burrito in the Miracle Blanket. We tried the velcro swaddle and the aiden and anais swaddle blankets but this was the only one that she didn't bust out of. Our swaddle days are over now, but I would recommend that any mother-to-be buy a few of these.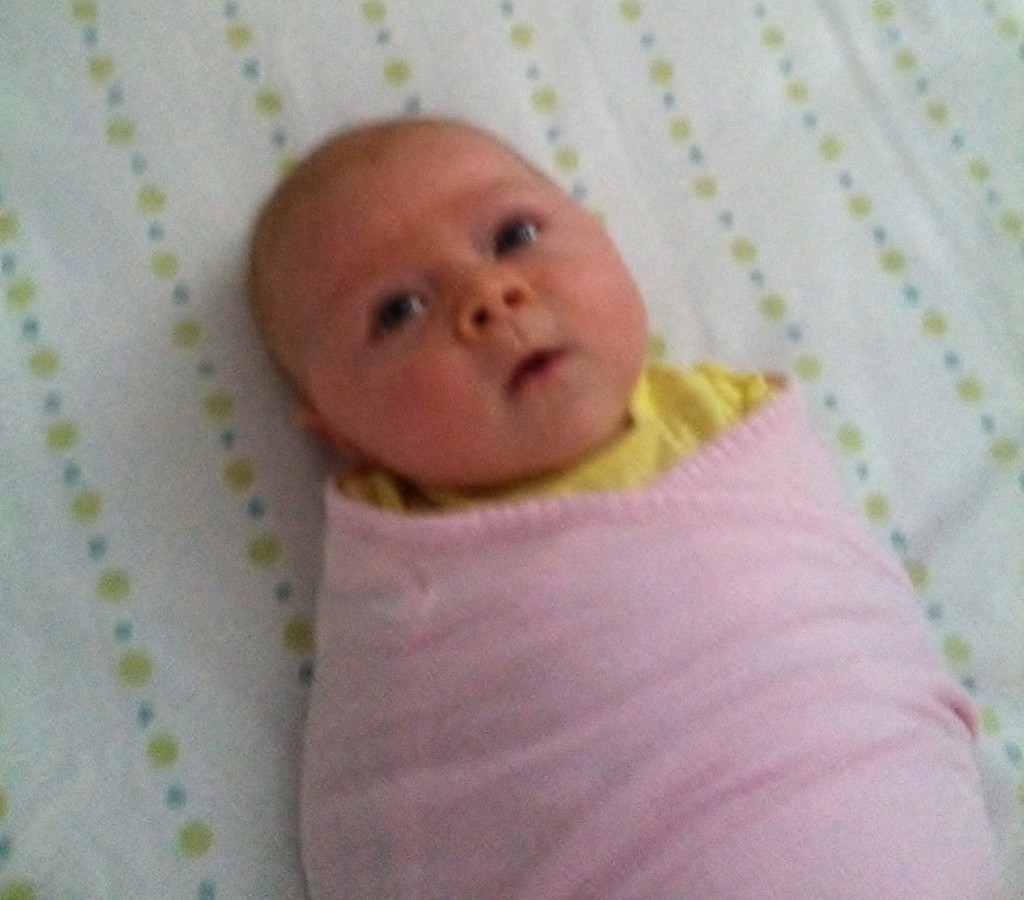 Pack 'N Play (Graco Pack N Play Playard with Bassinet) : That baby slept in her pack n play for a week at the beach and regularly goes to sleep in it when we are over at friends' houses. This simple model was a consumer reports favorite and it gets the job done quite well.
Babywise (On Becoming Baby Wise: Giving Your Infant the GIFT of Nighttime Sleep) : The book should actually be called "Giving YOURSELF the Gift of Nighttime Sleep." I wouldn't have had the first clue about how to get That Baby on a schedule without this book. It taught me the basics like how much sleep babies need, what to expect at what age, and how to "troubleshoot" things that might come up like acid reflux and teething. Baby Wise presents an infant care program which the authors say will cause babies to sleep through the night beginning between seven and nine weeks of age. That means no middle of the night nursing and a baby who learns to self soothe. It emphasizes parental control of the infant's sleep, play and feeding schedule rather than allowing the baby to decide when to eat, play and sleep. I didn't and don't follow their schedule to the letter, but Harper started sleeping through the night at around seven weeks and we have Baby Wise to thank for that. This blog , Chronicles of a Baby Wise Mom, was also wonderful at filling in the gaps.
Car Seat (Chicco Keyfit 30 Infant Car Seat): Obviously you gotta have a car seat to take your baby home from the hospital. Allegedly it's the law. We chose the Chicoo Keyfit 30 based on Consumer Report's strong recommendation. They put that thing through the ringer and it came out on top.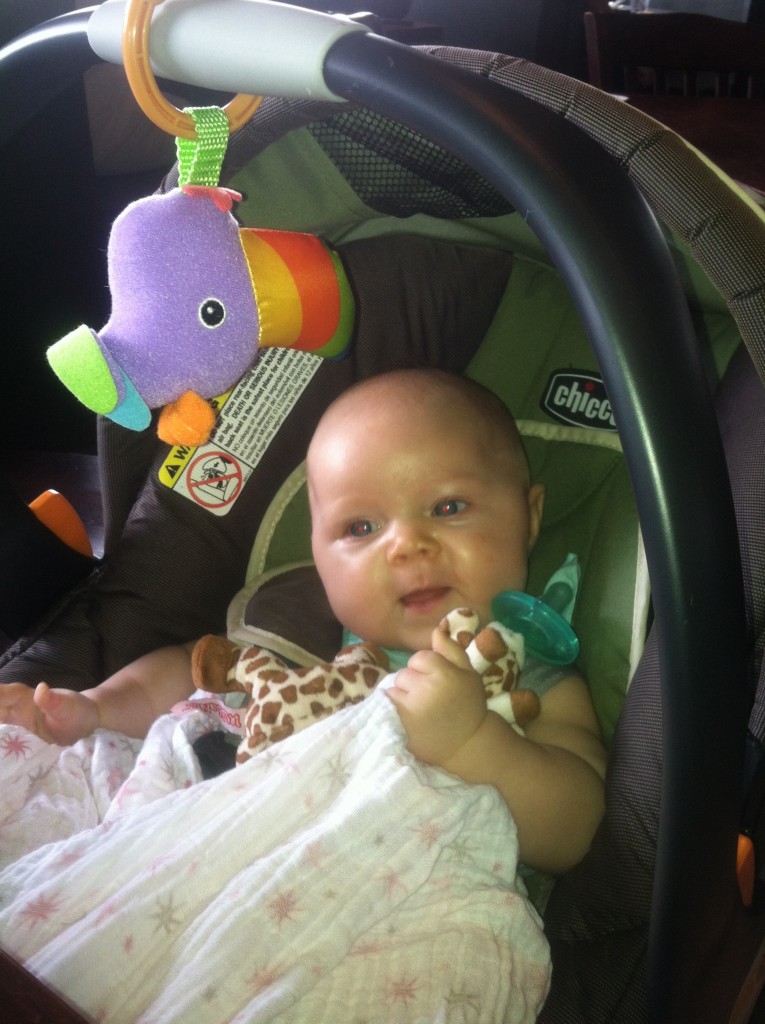 Sophie Teether ( Vulli Sophie the Giraffe Teether) : I don't know what it is about the international sensation that is Sophie the Giraffe, but this is Harper's go-to teething toy. We seriously don't leave home without it.
In-town, loving (free) babysitters– Man oh man. My parents have been so amazing and are ohsovery willing to take care of That Baby when My Man and I need a night on the town. Such a gift. Unfortunately they aren't available for purchase on Amazon. Maybe check eBay.
So that's the short list of the things we couldn't live without for the first six months. Mothers out there–what was on your list? Anything I need for the next six?
Go forth and multiply.