My perfect day would include a long walk on shady trail, gentle breeze and 70 degrees. In this vision, I am rocking the latest Lululemon and my naturally blonde hair bounces in one of those peppy ponytails with a slight wave. I walk for as long as I please, losing myself in the gentle rolling hills and the beautiful scenery….. The realty looks a little different: These days, if I get to walk it is rarely alone. My unintentionally ombre ponytail complements my Old Navy active wear as sweat drips in my eyes because it is 106 degrees on the cement. I am using all of my might to push the stroller up hills and bribing its passenger with snacks and toys to keep her content in attempts to eek out another mile without an emotional breakdown.
But! The common thread between fantasy and reality is that in both scenarios, I am listening to podcasts while I walk. Hands down, my very favorite hobby is going for a long walk while listening to podcasts. (Actually my #1 favorite hobby is going out for dinner when someone else is paying, but the walking podcast thing is #2) Anyway, I crank up the volume to drown out the whining, and I lose track of time as songs, stories, tips, and talks stream through my headphones.
For you grannies out there who think I'm speaking Japanese when I say the word podcast, here's how it works. Podcasts are kinda like free, on-demand talk radio. And there are zillions out there on just about any topic under the sun. My preferred method of listening is via the iTunes Podcasts app on my phone, which comes pre-installed on most iPhones and iPads. Simply search the app and hit "subscribe" on the podcasts you want to listen to or click "feed" and choose an episode from the archives.
Because of the sheer volume out there, I wanted to share some of my very favorites for your listening pleasure…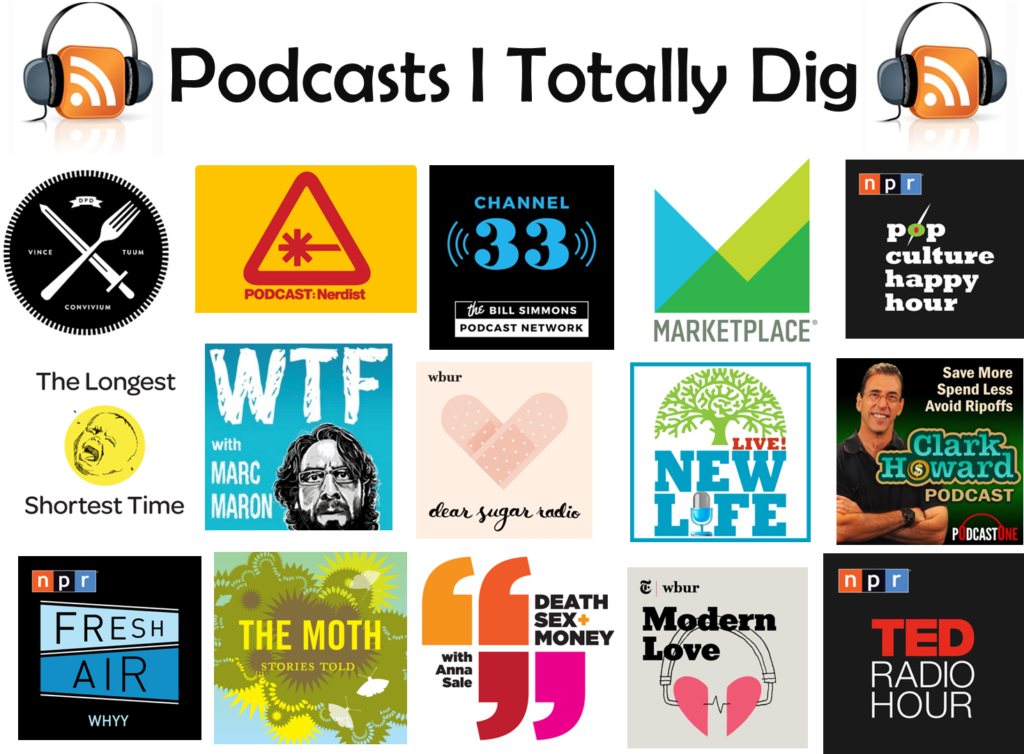 Goodness in the form of (mostly) true stories:
This American Life. This is the gateway drug of podcasts. I discovered This American Life one Sunday evening as I was driving back to college after a spring break trip around the turn of the century. It changed everything I thought I knew about public radio. I was instantly hooked and have rarely missed an episode since then. Ira Glass is on my short list of people with whom I'd like to dine.
Modern Love– The best columns from the Modern Love section of the New York Times, read by actors. Then the host follows up with the essayist for a quick chat about the piece.
The Moth– Regular people like you and me but cooler, telling their true stories live on stage.
The Longest Shortest Time– So entertaining and enlightening for the parents among us. Definitely worth taking a trip through the archives.
Advice (Eavesdrop on Other People's Problems):
Dear Sugar Radio– You call it nosy, I call it emmpathetically curious–but whatever you call it, I truly love hearing people talk about their problems. And there are lots of podcasts out there that scratch that particular itch. On this podcast, authors Cheryl Strayed and Steve Almond give thoughtful advice in response to letters they receive.
New Life Live– An advice call-in radio show which is awesome for two reasons: 1. The people calling in have really big and messy issues 2. It is call-in (not write-in) so there is a dialogue and follow-up-questions between the caller and the experts.
Get Smarter:
Marketplace– This daily radio program is about business news and how it affects you. This one happens to be more family-friendly than some of the others, so it is a good one to listen to on the loudspeakers while I am momming. And host Kai Ryssdal's radio voice happens to be my favorite.
Clark Howard-Consumer advocate Clark Howard helps you save more of your hard earned money and not get ripped off. I always walk away with a few good nuggets of financial savvy.
TED Radio Hour– Each show is centered on a common theme and highlights some of the most fascinating TED Talks.
Interviews:
Fresh Air– My favorite genre of podcasts is the interview and Fresh Air is probably the gold standard as far as interviews are concerned. A chat with host Terry Gross is mandatory on most legit press tours, and I always enjoy listening in on her chats interesting people, authors, politicians, and actors. Terry Gross has my dream job.
WTF with Marc Maron– Comedian Marc Maron interviews musicians, writers, directors, actors, and other comedians. It's a known fact that people go deep with Maron, probably because of his self-deprecating humor and the comfortable and casual nature of his conversations.
Nerdist– I don't listen to this one with just any ol guest, but there are some treasures in the archives. Take a look through the archives and listen to the episodes featuring your favorite comedians, actors and musicians.
Here's the Thing with Alec Baldwin– Alec Baldwin is a great interviewer. He asks thoughtful questions and talks to interesting artists, policymakers, taste-makers, and performers.
Death Sex and Money– Anna Sale interviews people – both famous and not – about three of the most taboo (and most interesting) conversation topics. So good.
What Should I Read Next– Armed with seemingly infinite bookish wisdom, Hostess Anne Bogel interviews readers and asks them these questions: What are three books you love? What is one book you hated? What are you reading now? and What would you like to change about your reading life? Based on the guest's tastes, Anne answers the big question, "What should I read next?" I get 85% of my reading list from books I learn about on this awesome podcast.
Current Events of the Pop Culture Variety:
Channel 33-Bill Simmons is the guru of sports and pop culture, the founder of Grantland (RIP), and the machine behind the recently launched site The Ringer. Channel 33 is one of the Ringer's network of podcasts that offers unique and thoughtful takes on tv, tech, movies and music. Because I really trust their contributors' tastes, I often turn to them to get a cue on what is worth watching next.
Pop Culture Happy Hour– is a conversation about books, movies, music and television. I like hearing this group debrief media I have recently consumed.
Dinner Party Download-It's a podcast structured like a dinner party, and intended to make you a dazzling guest. They bring in a celebrity for a short interview, dish out interesting tidbits about current events and have a themed cocktail.
There are exactly 2.985 bazillion podcasts so this list is hardly scratching the surface, but these are on my short list of worthwhile listens. I would like to know what is on your list? What do I need to listen to? I am anyways on the hunt for new-to-me goodness. Sound off.
Save
Save
Save
Save
Save
Save
Save
Save
Save
Save
Save
Save
Save
Save
Save
Save
Save
Save
Save
Save