We're going to Disney World
I have a very clear memory of my first trip to Disney World when I was four-and-a-half years old.  We loaded up in the family station wagon and headed south, likely without seatbelts because it was the 80s.  We rode the Teacups and Mr. Toad's Wild Ride (and the woefully underrated Carousel of Progress, a childhood favorite of mine where there was never a line), ate Mickey shaped ice cream, waited in line to have our turn on It's a Small World , and chased down A-listers like Goofy and Donald for autographs.  It was absolutely magical and I cried all the way home.
We knew this was the year to take our four-and-a-half year old daughter Harper for her first time. So early last fall I started looking into planning a trip. Well my friends, lesson one is that a lot has changed since the Disney trips of the days of yore.   It is not as simple as it was in 1986.  We started planning our February trip in October, which I found out was really late in the game—nearly too late to get a room with a park view and a meal with even a second-tier princess.  So we enlisted the help of a Disney Vacation Planner (yes those exist).  She helped us navigate the world of Fastpasses, character meals, MagicBands, hotel reservations, the Disney app, park hopper tickets, and all the other new-age logistics of our grand adventure.  And her services are FREE–the only free thing in what is shaping up to be the most expensive trip we have taken since our honeymoon. To a private island.  Basically my husband and I could go to Europe for a week or take our four-year-old to Disney for a few days.  We chose Disney because…well because… childhood is but a blink. And magic!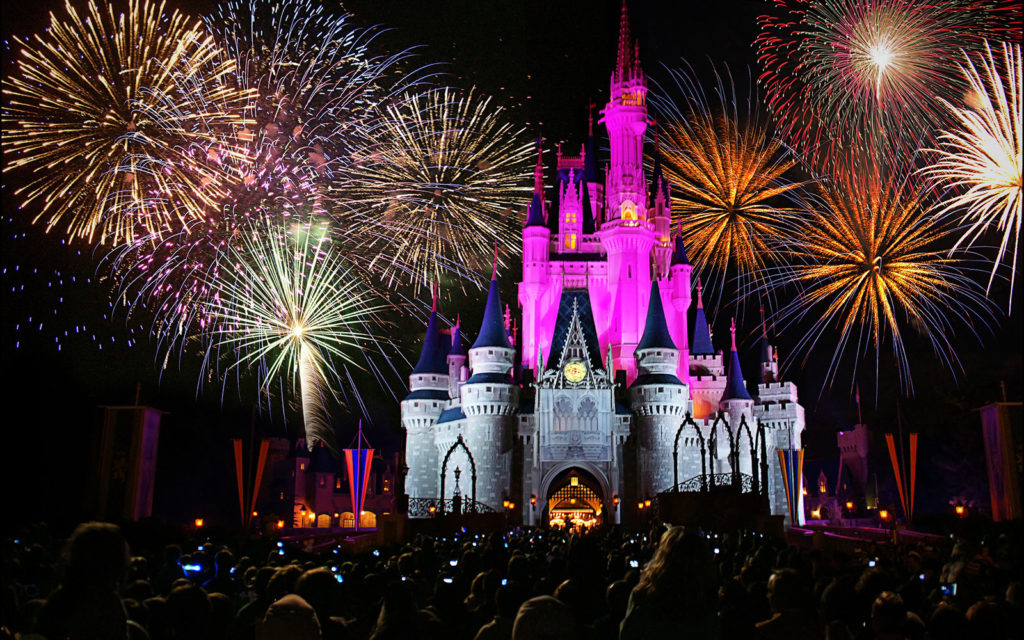 The first decision we made was to leave one-and-a-half-year-old Hallie back at home while the rest of us fly to Florida. I am well aware that children under two fly for free and get into Disney World for free, but that is definitely a booby-trap. Free does not equal fun nor does it equal wise.  Hallie is way too young to remember what would amount to a high-wire feat of A-level parenting required to keep her happy in a stroller for 14 hour days.  She is also afraid of roller-coasters.
Once we had the trip logistics nailed down, we had to decide how and when to tell Harper the Big News that we were going to Disney World. We considered telling her the night before we planned to fly out.  I think I saw that in a Disney commercial once and it was awesome.  She would have gone BANANAS, but we would have missed out on the solid gold that would have come from her anticipating the trip.  One of the things I love most about Harper is how genuinely excited she gets about pretty much everything. Birthday parties, elevators, desserts, a song on the radio, Tuesdays, school days, weekends, a new toothbrush, old goldfish she finds in her car seat—all of it. She just gets hyped up about whatever's now and whatever's next.  On a recent Target trip, I bought her some basic white socks.  She was absolutely beside herself with excitement when I pulled them out of the bag to show her.  "Oh mommy, how did you know?! This is exactly what I wanted! I love them so much.  Thank you thank you.  And they fit perfectly!"  My precious little orphan Annie.  If she was that excited about new socks, I knew the Disney surprise would blow her little mind.
So for Christmas we made a plan for her last gift to tell her that we are taking her on a trip to Disney World.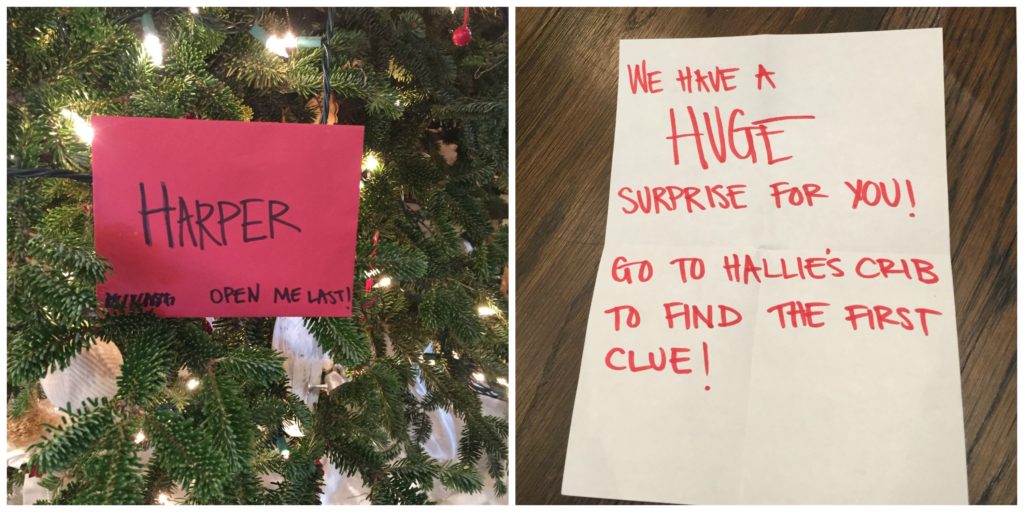 Hidden in the tree was a red card with her name on it that said "open me last."  Inside was the first clue to the scavenger hunt, or "scabenger hunt" in her precious preschool pronunciation.
The first clue was in a bag that said "WHO?"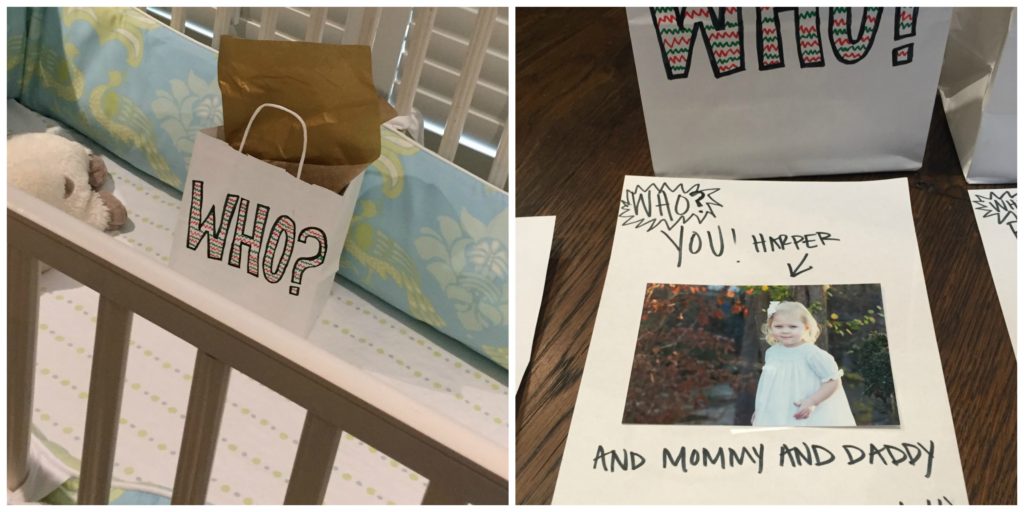 The clue inside said "You! And Mommy and Daddy" and told her where to find the next clue.  It also told her that my parents (AKA Mimi and Buzzo) are joining us for part of our mystery adventure.
The next clue said "WHEN?" and the paper inside told her "The first week of February" and had a little countdown calendar with the day marked.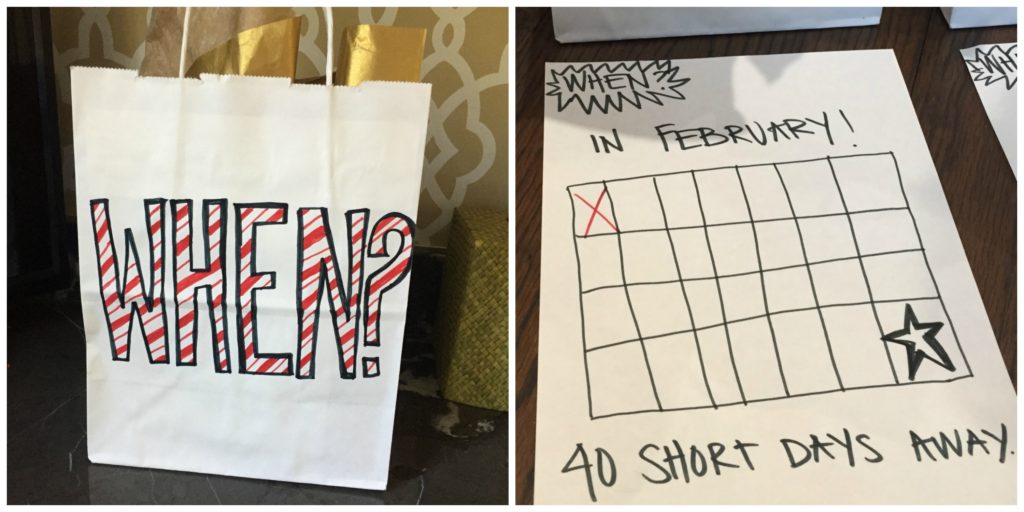 The next clue was in a bag marked "WHY?"  Inside the paper said "Because we love you!" and told her where to find the next clue.  She rushed from room to room with all of us following behind.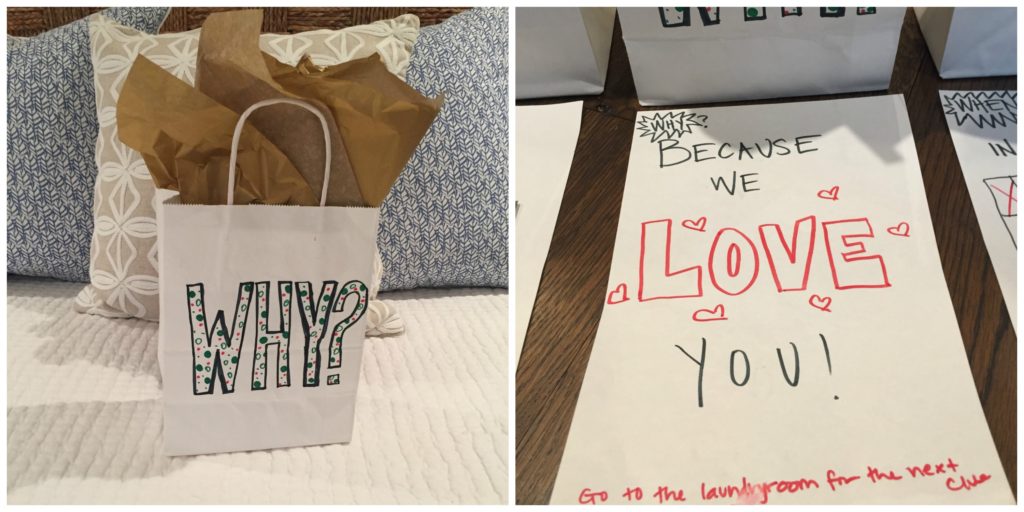 The next clue was in a bag that said "WHAT?" on the outside and inside said "A very special family vacation on an airplane!"  At this point she started freaking out because that will be a first for her. And we should all freak out a little because flying through the air really is quite remarkable.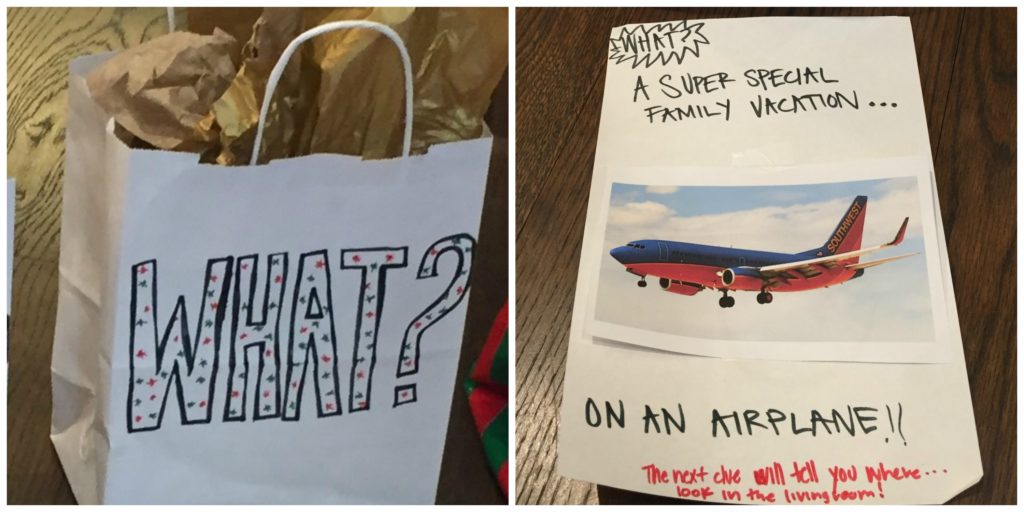 The last and final clue was in a big bag that remained hidden until she came back in the living room.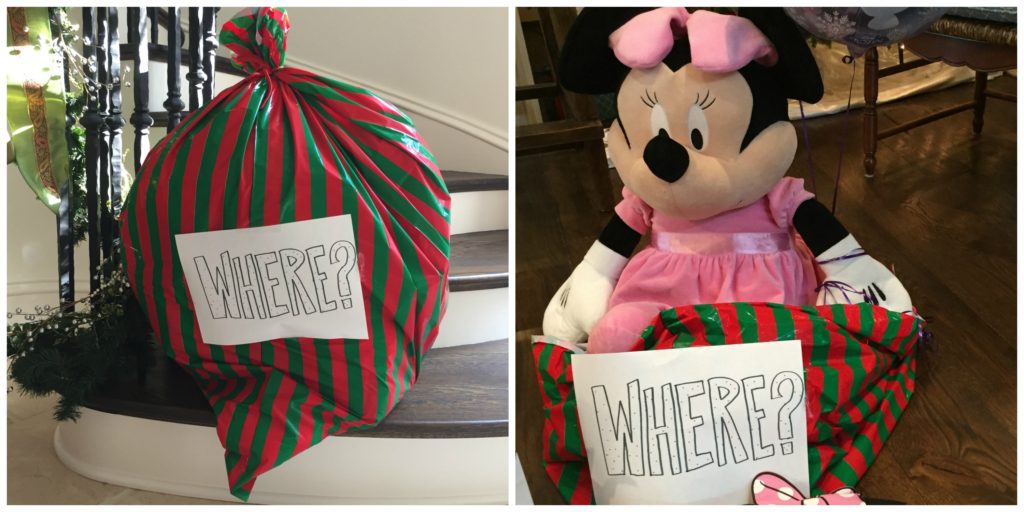 The bag said "WHERE?" and inside was the big reveal of exactly where we're heading.
The video of her opening the final clue and figuring out that we are heading to Disney World is something I know I will treasure forever.  (Click HERE to see it if it doesn't load. worth it.)
That poor little orphan child who cried tears of joy when I bought her new socks has never been on an airplane before.  She is beside herself with excitement about that component of our adventure.  In fact, we could probably just take her to ride the big escalator at the airport and stop there to watch the planes and it would be the thrill of a lifetime for her—but we will press on to the Magic Kingdom. Hi Ho!
If I'm honest, John and I are just as excited as she is.  Seeing your children experience new things with pure unfiltered joy of is one of the absolute best parts of being a parent. I'll choose that over a trip to Europe any day.
Click HERE to see Harper talk through the details.
((And for those of you planning a trip to see Micky Mouse in his natural habitat, you absolutely must reach out to Tara Verdigets at WDW Getaways (tarav@wdwgetaways.com). Her services are free and she speaks fluent Disney.))
Save
Save
Save
Save
Save
Save
Save
Save
Save
Save
Save
Save
Save
Save
Save
Save
Save
Save
Save
Save