We Did Disney and Lived to Tell the Tale
We had the most fun spring break trip to Disney World.  You couldn't have paid me to stay one more day, yet I am so sad the trip is over.  And that is the magic and mystery of Disney.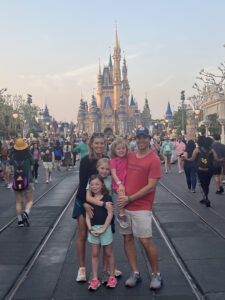 A few things that made this trip a smashing success:
Our kids are at great ages. At 5, 7, and 10, our girls were young enough for the magic, tall enough for the fun, and fearless enough for the thrills.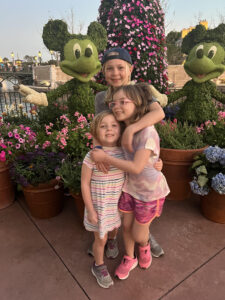 Our kids are at great heights. Clocking in at 42 inches with good posture and the right shoes, our youngest was able to do almost everything.  She was too short to do Space Mountain but other than that, she was totally on board.  She was also a smidge too short to do Flight of Passage which meant that our older girls got to ride this hot attraction twice as many times, accompanying both parents on each flight.  (Pro tip: Technically you are allowed to invite one child to join the second parent on a rider switch, but find a mouseketeer with an iPad. They can make the rider switch bonus happen without making you choose a favorite child).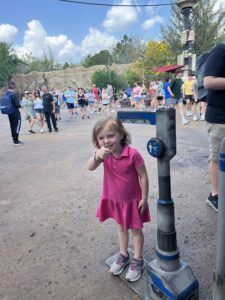 We hired a Disney Trip Planner. She helped book our hotel, and our meals, and came up with a custom itinerary to help us navigate the parks.  Alanna Smallwood (alanna@effortlessgetaways.com) was our Rosetta Stone of all things Disney.  She translated all the Disney jargon (Genie Plus, Lightning Lane, Virtual Queues, Park Hopper, etc.) into plain English and helped us make to most of every day. She truly went above and beyond. Reach out to her if you have plans to make the pilgrimage to Orlando.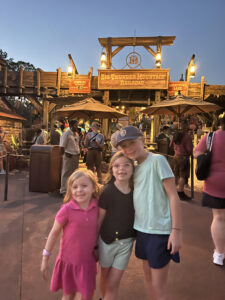 We stayed "on property" which meant we got extra perks, like late nights and early mornings. We stayed at The Boardwalk, within walking distance of Epcot and Hollywood Studios.  This made it easy to bop right over to Epcot to ride Guardians of the Galaxy (our favorite ride of the trip) and walk home after the fireworks.  There was also a great ice cream spot on the boardwalk and Boardwalk Brownie Sundae was the best and most delicious deal in town.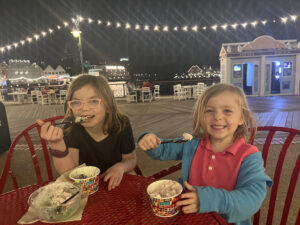 Green vegetables? Hairbrushes? No thanks. I gave myself permission to stop caring about the mom things I mandate in Atlanta- this includes normal bedtimes, eating green vegetables, and proper hygiene. If you tried, you couldn't find a floret of broccoli on Disney property, so we didn't. We threw routine out the window. Ice cream for dinner? Sure. Don't feel like showering tonight? Gross Cool. Want to stay at The Magic Kingdom until 12:30 pm? Let's do it.  As long as everyone was wearing comfortable shoes and sunscreen, I said yes to the rest. (And for the record, I showered every day.)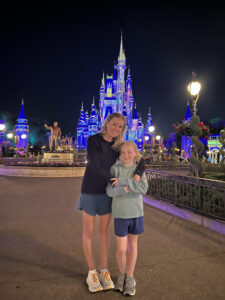 We were willing to pivot.  We knew we would all need a little break from full-throttle Disney, so we planned to have a low-key pool day at our hotel.  I envisioned myself lounging poolside with my kindle while my children splashed around.  Maybe I'd even doze off under the umbrella and catch up on much-needed sleep. Ahhhh.  But the slide at the hotel pool was closed for refurbishments.  Our kids were so bummed, so I asked the concierge if we could just pool-hop to the neighboring hotel and use their pool with an operational slide.  "No," she said, "but I can give you free passes to Blizzard Beach!" She was way more excited about it than I was.  But after a quick team huddle, we decided to go for it.  What was it like? Well, imagine all of the people at the Magic Kingdom. Now, imagine them in bathing suits.  Welcome to Blizzard Beach, a 66-acre water park boasting one of the world's tallest and fastest free-falling waterslides and a zillion other wet attractions.  Once I had a quick moment to mourn the restful day that wasn't, I literally dove in.  It was really, really fun (and also gets me out of ever having to go to Great Wolf Lodge).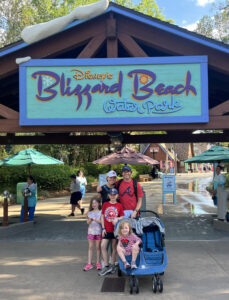 We rented a double stroller. Our girls aged out of strollers a while ago, but there is no way those little legs could have done all that walking.  We covered A LOT of ground each day, and John got every single one of his steps in pushing or carrying well over a hundred pounds of children.  Get this man a Boardwalk Brownie Sundae.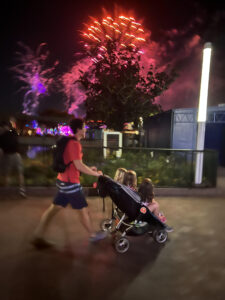 We took siestas. We did early mornings and late nights- so a few hours back at the hotel to rest and reset kept everyone fresh. It was essential (for the adults) to have some quiet time in a quiet cold dark room before reentering the madness.  The girls inevitably napped and that likely prevented over-tired meltdowns.  In fact, we may have been the only family who did not have any of our children cry at the happiest place on earth.
We didn't do the math. Ju$t don't. Disney is stupid expensive to begin with, and now the most popular rides have upcharges and a complex and costly online booking system. Pay the money and don't be assessing the value at each turn or it just won't be as fun.   Don't do the math.  Family memories? Priceless(ish).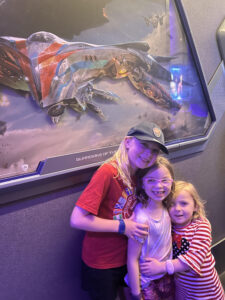 We had appropriate expectations and were in it together. At Disney, you see marriages and families crumbling to your left and to your right. The heat, the constant decision-making, the intense togetherness, and pushing the over-capacity double stroller from ride to ride dodging the sweaty mass of humanity eating chili dogs on their rascals at 9:30 am will test even the strongest union. Both parents need to go in with eyes wide open and reasonable expectations.  We were co-directors of this runaway railway. On our pre-trip call with Alanna, we both had our pens in hand, taking notes as she gave us the Disney-don't-wait-in-line Strategic Plan.  I did my homework, and so did he.  It took not one but TWO dialed-in parents to navigate the parks, the sibling dynamics, the Disney app, and the crowds.  The strongest steel is forged by the hottest fires.  Or marriage is stronger after enduring this gantlet together.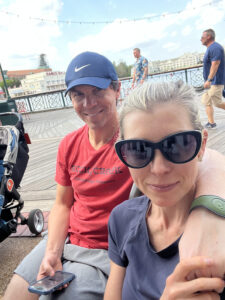 We had a game plan. Unfortunately, you can't just show up and play it by ear.  You need a game plan for each day if you have a hope and a prayer of not waiting in long lines. That meant setting early alarms so we could book the rides we wanted. That's where the expectations come in- this stopped being a vacation long ago.  This is an experience. No one comes back from Disney feeling rested and refreshed.  Our unified approach was that we were going to leave it all on the field. We did.
Now it's time for a real vacation.