I love magazines.  Like LOVE them. Nothing wrong with that, right?
I subscribe to the standard fare for a girl my age: Real Simple, Cooking Light, House Beautiful, Vanity Fair, The New Yorker, In Style, New York…the list goes on for far too long.  Then there are my subscriptions to magazines I place in the aspirational genre including Martha Stewart Living, Bon Appétit and Veranda.  One day I will put those tips to use on how to braise duck, etch portraits of my family into Easter eggs, and decorate my beachfront mansion.  One day.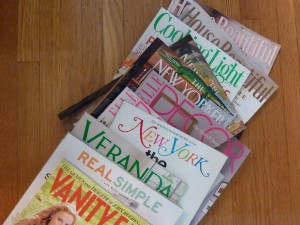 Now for the Guilty part of this Pleasure…
There is also another group of magazines that I don't subscribe to, but definitely don't miss an issue of.  These are the magazines that my mom, 29 years my senior, subscribes to.  She and her peers in the 40+ demographic may be the target audience, but I just can't get enough.  Among them: Redbook, Prevention and Ladies Home Journal.
Women like Robin McGraw, Katie Couric, Jenny Stanford, Carnie Wilson and Andie MacDowell grace the cover of these mags.  Lauren Conrad, Scarlett Johansson, and Taylor Swift can step aside.  Fergie is out, Marie Osmond is in.  Advertisements for birth control pills are replaced with ads for Estroven and Boniva.
I would be glad to share the tips I have acquired over the years on subjects including: dealing with the empty nest, how to spice things up in the bedroom after children and after 40, when it's best to retire, and different ways to cope with menopause.
Those are the magazines I buy when I am stuck at the airport and the mags I reach for at the doctor's office.  Fortunately, my mom passes on her back issues to me so I don't raise eyebrows at the checkout.  I thought this little fetish for magazines geared for the over 40 crowd was a secret.  That was until this arrived in the mail the other day.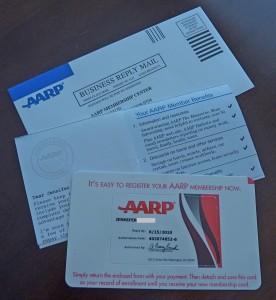 An AARP membership card with MY name on it.  For those of you who don't know, AARP stands for the American Association of Retired Persons.  Fortunately, or unfortunately, I am a good ways away from hanging it up, so to speak.
I was confused and mildly insulted.  However, I am considering membership, as long as it includes a subscription to AARP The Magazine.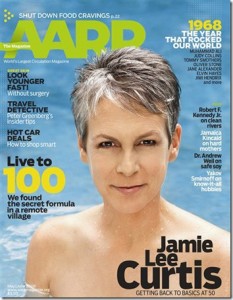 Happy Guilty Pleasure Thursday.