We just got back from Disney World and I'm here to say it lived up to the hype. The whole trip was the thrill of our daughter's little life so far, and it turned out to be a total highlight of parenting for us. But let's start at the beginning. Because I want to remember all of this.
Travel Day
After the Christmas surprise and the weeks of anticipation, the big day was finally here. Harper's first plane flight did not disappoint. "Blast-off" was a thrill and so was trying to find our house from the sky. We made it to our hotel by lunchtime and spent the afternoon swimming in the pool and riding the escalators in the lobby. We could have stopped there but the hits kept comin.'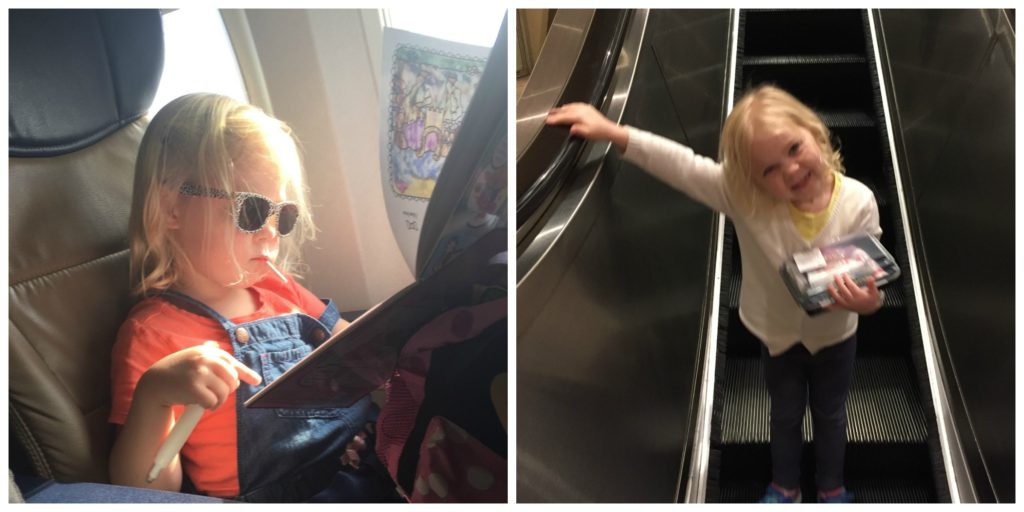 My parents arrived in time for a sunset loop on the monorail. Next we took a boat ride from our hotel to the restaurant at the Wilderness Lodge, where children are actually encouraged to ride wooden horses around the table while they wait for their meal. There was a light parade in the lake outside our hotel room which we caught just as we were heading in to call it a night. "They must have known it was my first day!" Harper said. "They threw this parade for me didn't they, daddy?" Yes Harper. Yes they did.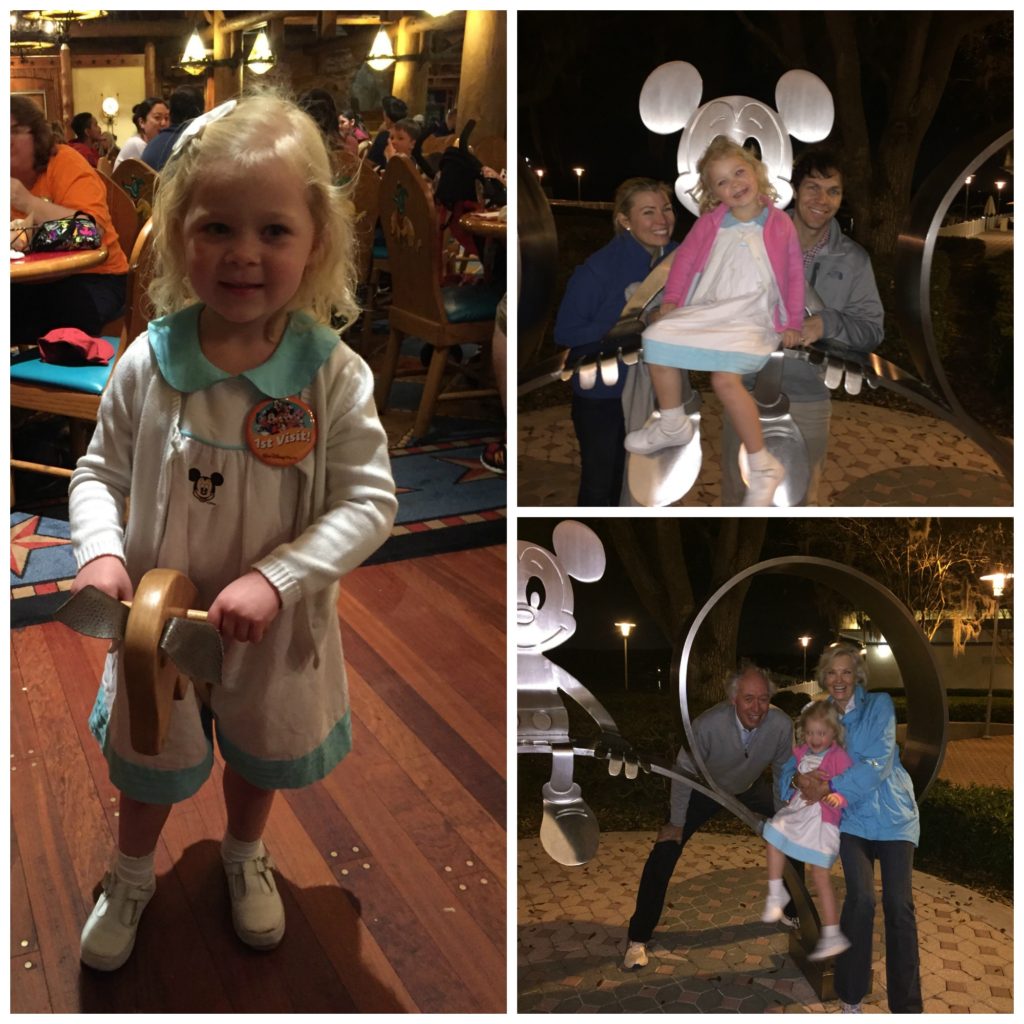 Day One:
Our hotel was in walking distance from the Magic Kingdom so we all walked to the park together on that first day to be ready for action when the gates opened at 9am. My parents were awesome and fully committed to leaving it all on the playing field. We took Harper on the Teacups, The Seven Dwarfs Mine Train, It's a Small World (had to. we're not monsters), The Carousel and the Jungle Cruise. Harper loved her first roller coaster, the view from the Dumbo ride, the surprise dance party on the castle steps, and the chance sightings of the character celebs. "She is the perfect age for this," I noted to my parents as our 4-year-old handed her autograph book to Belle. "I am the perfect age for this," my 65 year old father replied.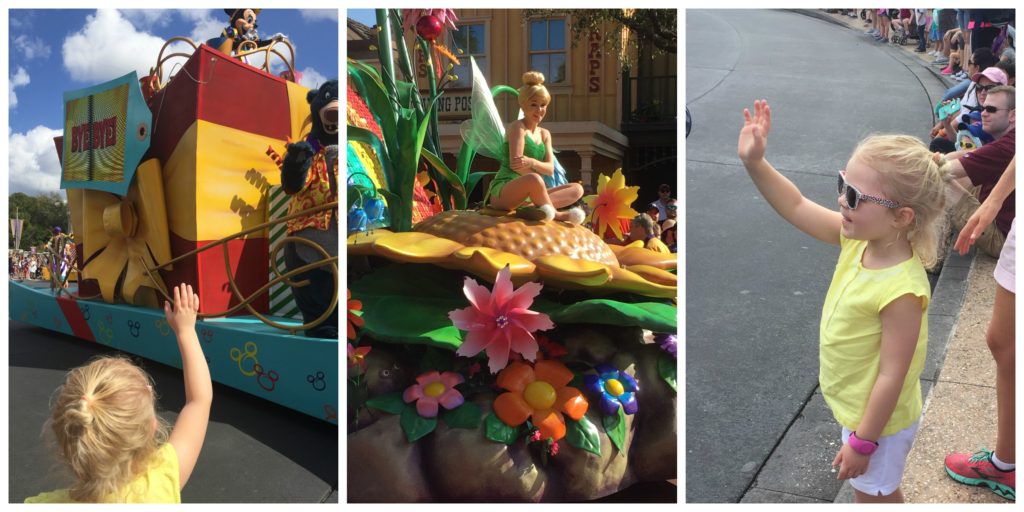 There is a parade around the Magic Kingdom every day at 3pm so we were sure to stake out a primo spot on the route. Harper shouted and waved at each character "Hi Peter!" "Hey Piglet!" "Hi Ariel!"-truly amazed by each new float emerging containing her heroes.
We headed back to the room for a round of late naps around 4:30, but were back at it by 6:30 and stayed until the park closed. Bedtime schmedtime. There was a light show on the castle and fireworks and ice cream, and rides, rides and more rides. On our first day as we strolled out of the park at a cool 10:30pm, a tired but joyful Harper said "mommy, this was the best day of my life."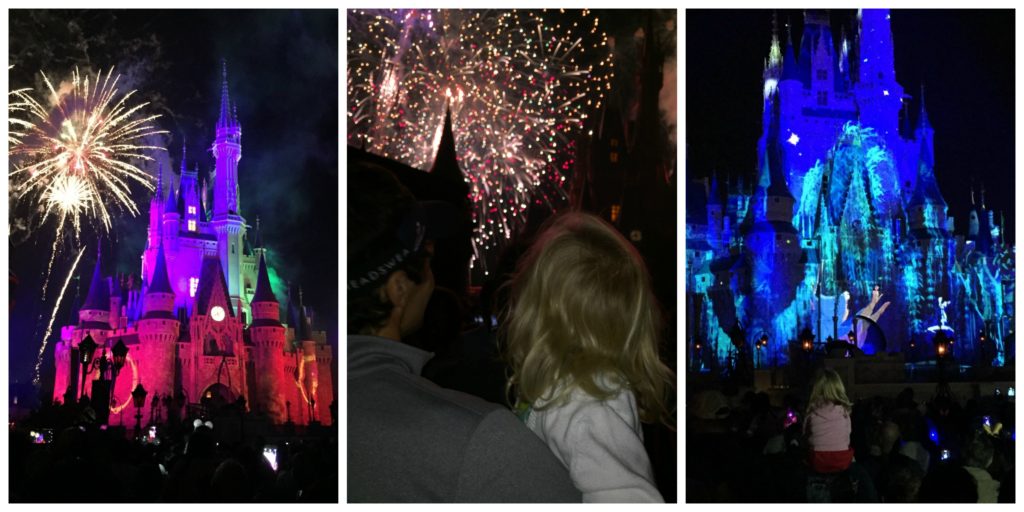 Day Two:
We said goodbye to my parents and the remaining three of us hunkered down for another few days. We spent the morning at Hollywood Studios where we started the day bright and early with a character breakfast. Not sure which Harper liked more, meeting the characters from her favorite Disney shows or the Mickey-shaped waffles on the all-you-can-eat buffet. We did the Frozen Sing-a-long, some Star Wars rides, the Tower of Terror, and then it was onto Epcot for the afternoon. Lunch and tequila shots in "Mexico" and a lap around The Test Track were highlights. Back to the room for late power naps and then we spent the rest of the day at the Magic Kingdom.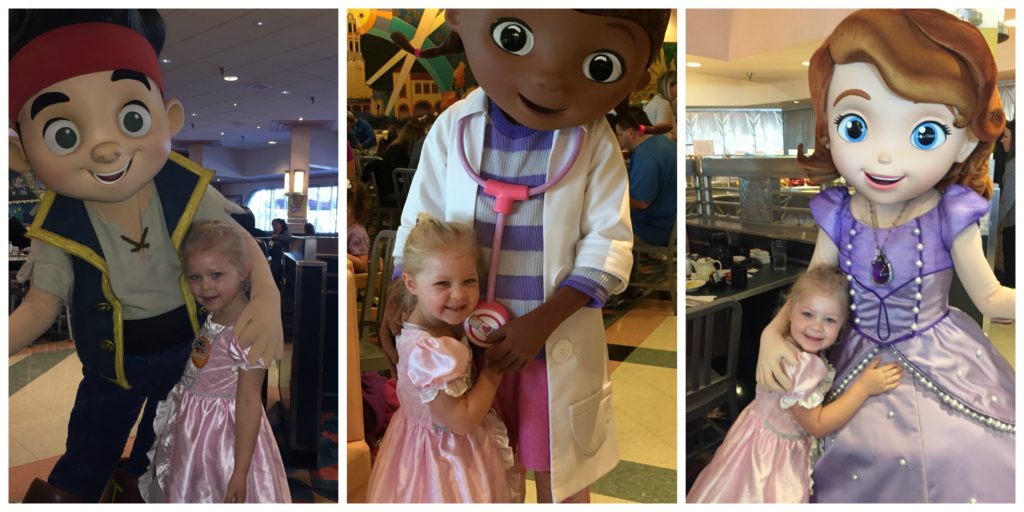 Harper, it turns out, is a thrill seeker. She loved the roller coasters so naturally we wanted to take her on Space Mountain-the biggest thrill at Disney World. We measured her outside the ride and learned that she was three inches too short. John and I figured that if we gave her a big hairdo and padded her shoes a bit, she would make the cut. So we went to work to get that girl to grow.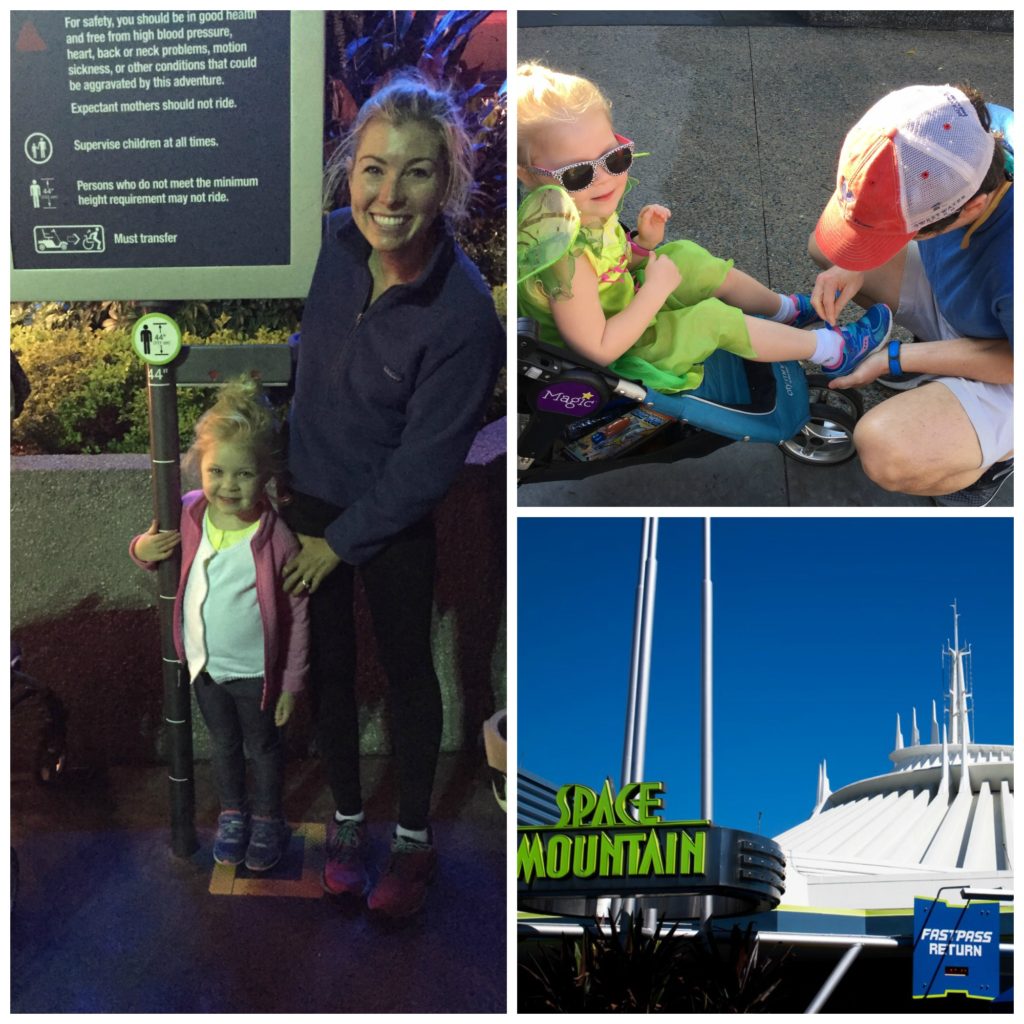 Jury is out whether the sight of a father shoving balls of napkins in his daughter's shoes while her mother constructs a voluminous topknot in efforts to sneak their too short daughter into a roller coaster constitutes a parenting high or low.
We will consider it a high.
Day Three:
By day three we were exhausted pros. We spent the entire day at the Magic Kingdom from the time the gates opened-ish to when they closed. We were on a one word basis with the rides (Splash Mountain= Splash, Big Thunder Mountain=Thunder…Pan, Cups, The Cruise, etc.) We worked the FastPass system, smugly laughing at the schmoes waiting 130 minutes to ride the Seven Dwarfs Mine Train (ahem, Dwarfs) as we breezed through to the front of the line. We knew the fastest routes between Adventureland and Fantasyland and had front row seats for the show on the castle steps. Harper got to hug "THE REAL" Cinderella, Rapunzel, Elena of Avelor and Tiana. We found the top spot for delicious ice cream and hit up our favorite spot for above-average park food (Pecos Bill's. Guacamole bar on point). We shut da club down.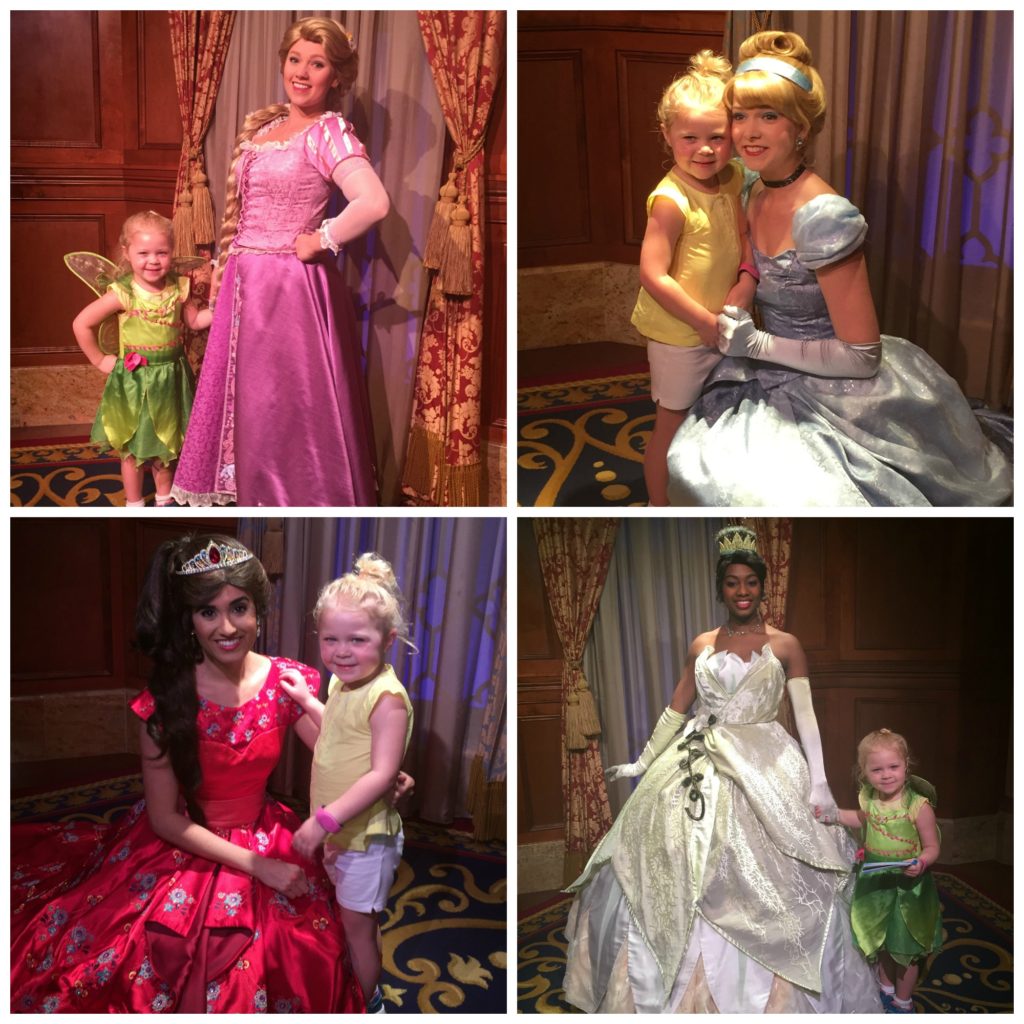 Obviously every night at Disney involves fireworks because duh. They are truly spectacular. Buuuut, we realized that the lines for some of Harper's favorite rides were way shorter while the masses head to watch the display. When our tiny Tinkerbell politely asked the ride attendant "can we please go around again?" he couldn't say no. So round and round we went. We were able to take loops around Splash Mountain and Big Thunder Mountain without having to wait in line.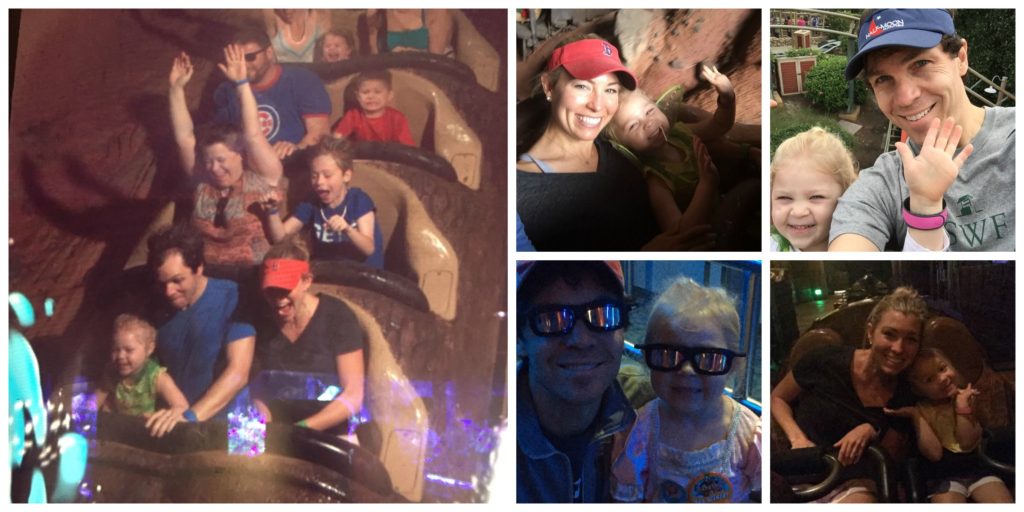 Our daughter has to hold the world record for total trips taken down Splash Mountain. And her parents win the award for being willing to get soaked in recycled theme park water to make her childhood dreams come true.
The Last Day
We spent the last day in Orlando just kickin' it poolside before packing it up to go home. When we got in the bus to head back to the Orlando airport, I noticed sweet Harper was in tears. "I don't want to leave," she sobbed. We had to remind her that she had a little sister waiting for her back at home, and we assured her that we would come back when little sis was old enough to join us.
On the plane flight back, I had a moment to reflect on our whirlwind adventure as my four-year old slept in my lap. Being away from the routine, the rules, (the one year old), work and school, provided the opportunity for me to simply enjoy my oldest daughter, and do so in a place that illuminates everything remarkable about this particular moment of childhood. It was a gift to see it all through my daughter's eyes and I want to always remember exactly how she is right now…
She expresses awe and wonder when she experiences each new thing. She believes in all of it–happy endings, fairy tales, the power of pixie dust-and that possibly the parade is being thrown just for her. She is fearless and free and totally unselfconscious, feeling beautiful in her hand-me-down princess dresses and up for dance party in the street with total strangers. She thinks it is totally tops to have the undivided attention of her parents and feels on top of the world when she is on her dad's shoulders. She makes wishes on pennies and stars, truly believing that her wishes will come true. She knows no other way than to be truly present in the here and now. Even simple things and out of the ordinary surprises (like ice cream and staying up past bedtime) are spectacular. Her imagination runs wild and she simply believes.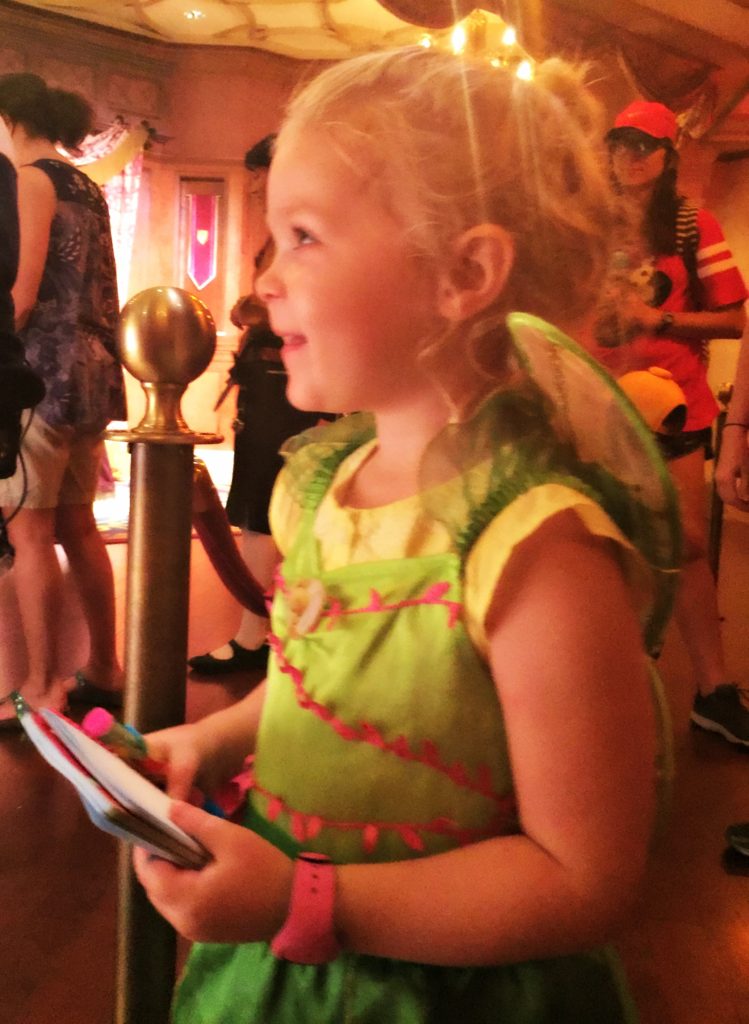 Through a child's eyes, Disney is magical. But the magic for me was that our trip made me understand how magical, fleeting and truly precious childhood is. Our time away with just our sweet girl made me realize that we are in the thick of the magical years of childhood, and I want to soak up every bit.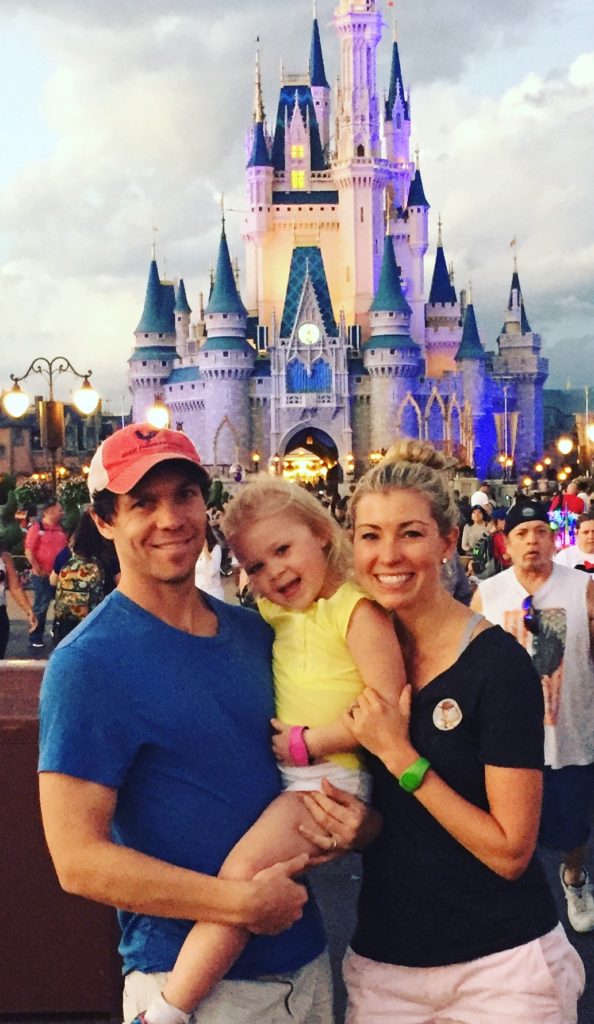 A few tips, tricks and do's and dont's to consider if your are planning a trip to The Mouse House:
Having an hour or two of downtime back at the hotel was a great way to recharge so we all had the energy to stay out late and enjoy late-night Disneyness. I'm sure this is one of the main reasons none of the children or adults in our party had meltdowns.
Disney is not the place to try to look cute. If there was ever a time to say "F-it. I'm wearing a fanny pack," this would be it. Dress to combat the elements: massive crowds, the Florida sun, obese people in scooters, drippy ice cream cones, sweat, and bossy moms aggressively maneuvering double strollers, just to name a few. Wear a hat and sunglasses and sunscreen and clothes that can get dirty wet and durty.
Work the FastPass+ system. For those of you not fluent in Disney, a FastPass is basically a reservation for a ride so you don't have to wait in line. Hey-oh. Work the system and only use your FastPasses on rides with the longest lines (like the Seven Dwarfs Mine Train, Splash Mountain, Big Thunder Mountain, Peter Pan, etc). As soon as you check in for your third FastPass+ reservation, open the My Disney Experience app and get a 4th. And on and on.
Download the My Disney Experience App. You can see menus, ride wait times, photos, make reservations, and manage your FastPasses. Easypesy.
Rent or bring a stroller even if your child has outgrown the stroller phase. So much walking for little legs. Be sure to tie a colorful ribbon so that you can easily identify your stroller from the THOUSANDS parked outside the rides. Plus we used the under the stroller storage for dry layers, maps and snacks. Which reminds me:
Bring snacks. Lollypops are great for waiting in line, and the snack bars, oranges and peanut butter crackers we packed kept us fueled between meals. And BYOB to save a few shekels. B as in bottled water. But you do you.
I suggest watching parades from Frontierland. All parades start in Frontierland and end at the front of the park. Find a shady spot behind the white rope.
If it can be avoided, don't bring your smallest children. Disney, it turns out, is no place for children-I saw mothers with nursing infants and two year olds and felt sorry for them.
Wear comfortable shoes. My dad's Fitbit exploded because we walked so many steps on our first day. Running shoes are mandatory. After three full park days at Disney, I feel like I just completed an ultramarathon.
Plan a trip while your little ones are in the magic years and believe in all of it. So SO glad we did.
Save
Save
Save
Save
Save
Save
Save
Save
Save
Save
Save
Save
Save
Save
Save
Save
Save
Save
Save
Save
Save
Save
Save